How to use testimonials in advertising: 11 Examples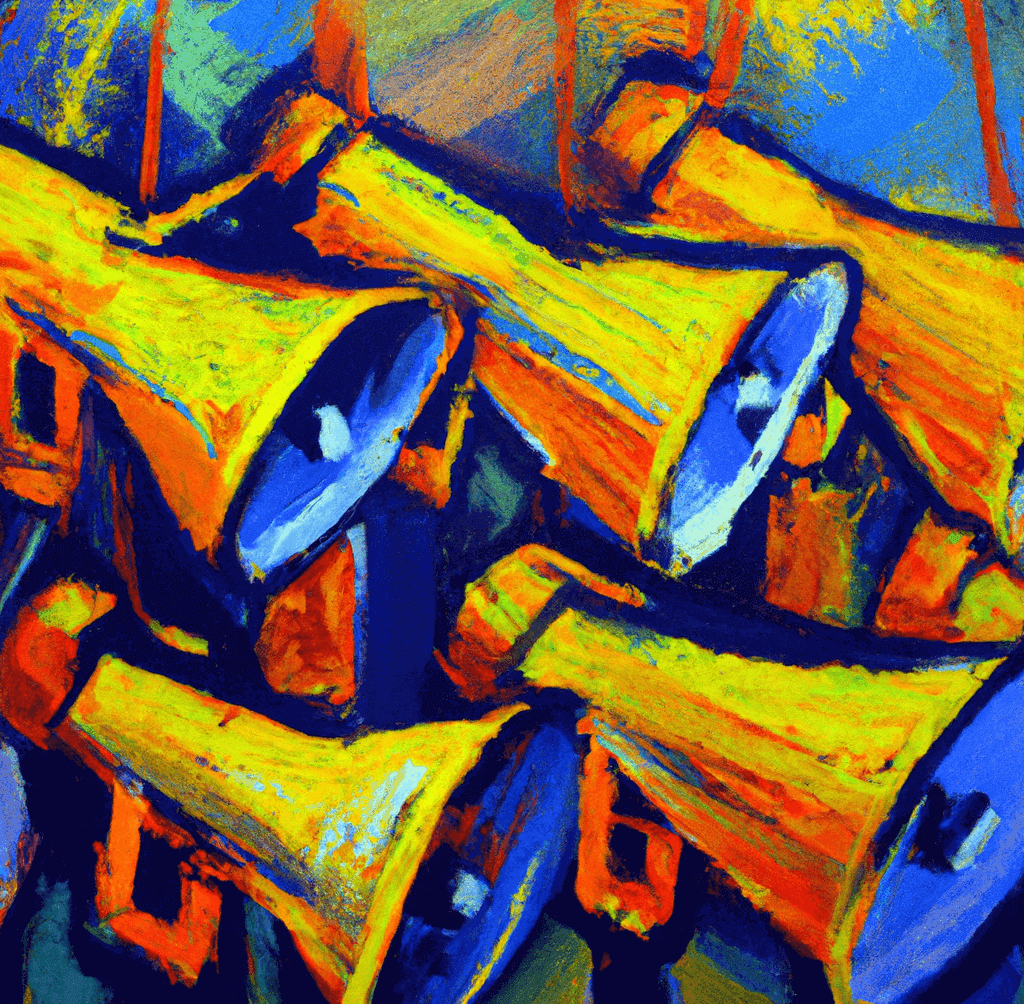 Last updated
September 2022
Testimonial marketing is one of the most powerful forms of modern-day marketing. That's not said lightly.
With so many businesses worldwide, customers are spoilt for choice when it comes to products and services that get the job done. If they don't like what you're offering, there are a dozen more options for them to try.
When securing customers in the first place, you need to stand out from the crowd and show everyone how valuable and effective your business is.
This means getting testimonials from customers to showcase what you're all about, and what better way to make the most of your testimonial content than using them in your content marketing strategy?
Today, we're deep diving into this rabbit hole and exploring the best testimonial examples in advertising, giving you all the inspiration you need to create your own. Let's go.
Why use testimonial marketing?
With so many types of marketing out there, why focus your attention on testimonials specifically? There are a few points to bear in mind.
Testimonials are what customers look for
92% of customers read reviews from other customers before making a purchase, and 72% of consumers trust a business more after reading them. Ensuring your testimonials are so readily available is a great way to give your consumers the content they're already looking for to influence their purchasing decision.
Testimonials show resolved pain points
Sharing customer experiences is a far greater way of showing the world how valuable your product or service is in a real-world situation. Testimonial content regularly highlights what a specific customer was dealing with and how your offering resolved that problem, making the content far more relatable than a press release or ad.
Testimonials change the lead voice of the conversation
Modern consumers are well aware that when they watch an ad or read a blog, it's the business speaking to them and sharing what they want their customers to hear. This can bring feelings of doubt and suspicion about whether they're being told the full story. Instead, testimonials put the voice of the conversation in the hands of past customers, which new customers find far more relatable.
Testimonials are trusted
50% of consumers trust customer reviews just as much as the recommendations given to them by their friends and family. Pushing this content in your own marketing ventures allows you to take advantage of this.
Testimonials lead to more conversions
The statistics are clear. Customers who engage with testimonial content are 58% more likely to convert, and having 50 or more reviews will increase your conversion rates by an average of 4.6%. This is too much benefit to ignore!
So, how do you use testimonial marketing yourself? How do you take your testimonials and make them into powerful marketing content that drives conversions and generates sales? Let's see how the best have done it.
Testimonial examples in advertising that won
1. Headspace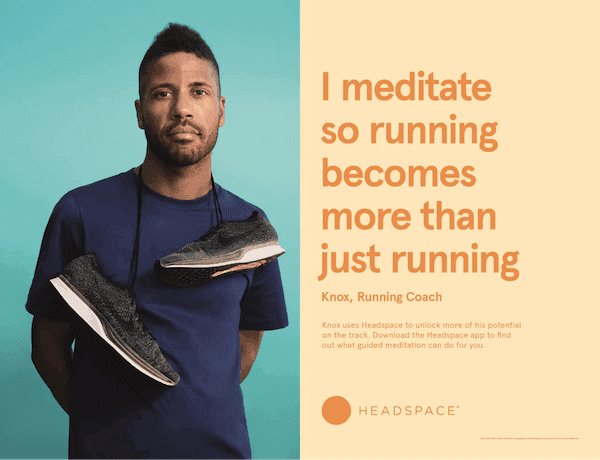 One of the world's leading meditation apps, Headspace, has been known for its sleek, minimal, and even soothing marketing campaigns over the years.
Their testimonial marketing is no exception. Bold text, incredibly aesthetic and consistent colors, and vibrant imagery are evident here, but what really helps this ad to pop is its simplicity.
Being a meditation app, Headspace aims to help people reconnect with the simplicity of life, which is reflected in the ad content itself. Thus, the branding is consistent and sells the product in a subtle yet impactful way.
The message from Knox himself isn't detailed, and the overall ad doesn't really contain any specific details, yet in the small hints we do get, coupled with the fantastic graphics, the message is conveyed loud and clear.
2. Patagonia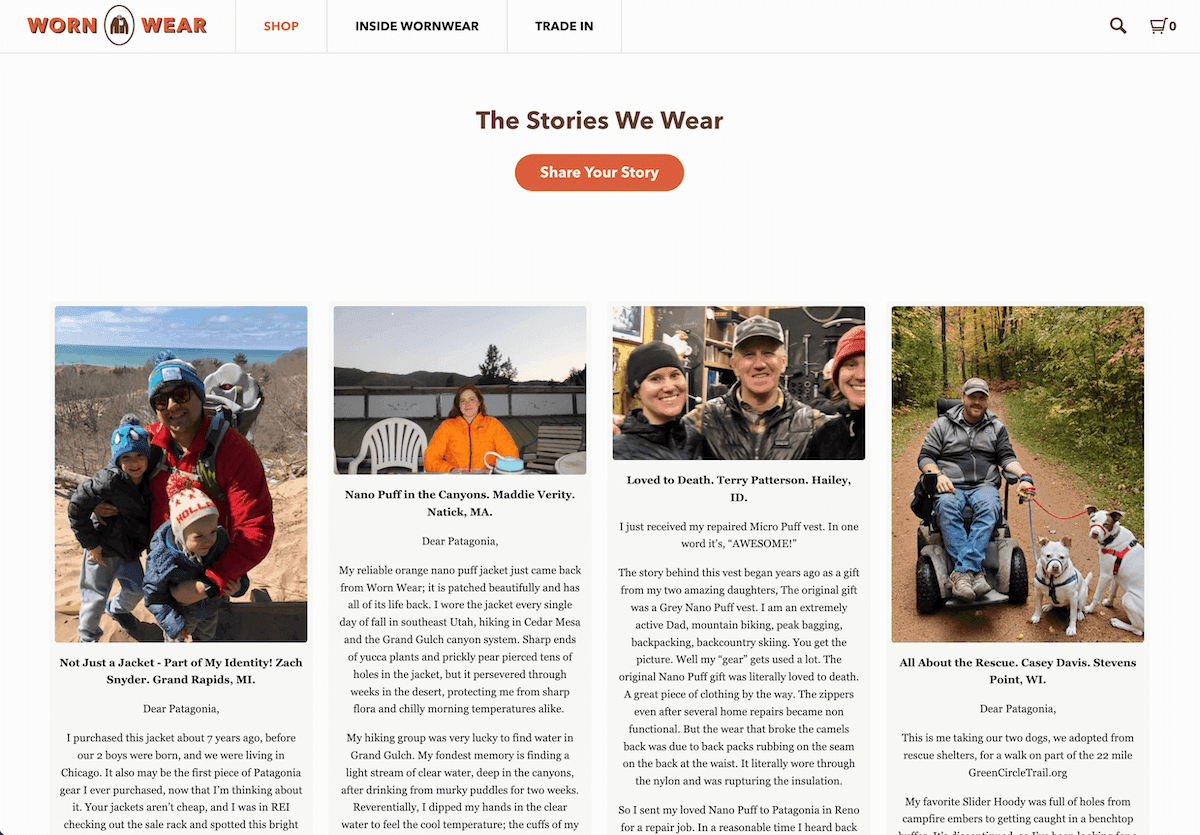 While many reviews are usually short and sweet, sometimes it can pay off to go a little more in detail when sharing your customer experiences, as clothing and outdoor lifestyle brand Patagonia has done here.
As you can see, there are some real case studies here where real people go into real detail about the products they're using and their experiences with them. This creates a very proud and realistic perspective about the brand, where they're happy to officially show off what makes their products great and why customers like to use them so much. Instantly, this becomes more attractive to new leads.
3. Slack
When messaging platform Slack really started to pick up pace as a company, they pushed the boat out with their marketing by offering their SaaS to a video production business.
They asked the company to adopt Slack, produce a video detailing their experience over the next six months, and have that as their marketing product.
It's an interesting take, and one scroll down into the comment section of the YouTube video showcases just how successful the idea was.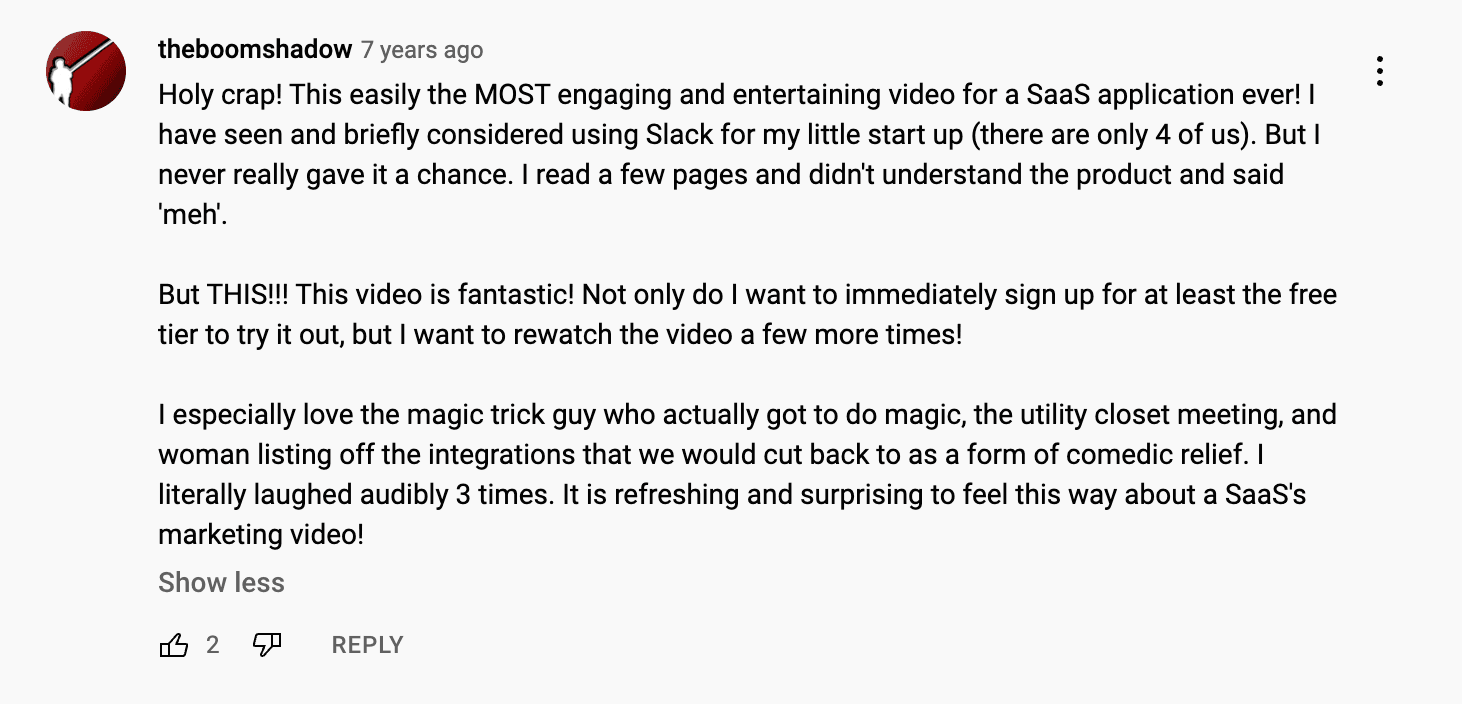 Yes, it's clearly a marketing video, but it's a real-life company in a real-life situation experiencing real-world benefits. As a SaaS product, this is precisely what customers are looking for.
The fact that this is readily available at any time on YouTube is such a nice touch because it allows other users to add their own input, and with over one million views and 4,000 likes, the reception has been going well.
4. Monday.com
Sometimes, it's best to keep things simple. Back in 2020, Monday.com released a video ad that was, in essence, a compilation of video testimonials they had gathered from their high-profile customers and put them all in one place.
The video features excerpts from various CEOs and businesses, and Monday isn't shy about sharing the enterprise names. This is essential to the video's success because it highlights which premium brands are using the product and creates the idea that if a potential lead wants to get to that level, they too, can benefit from such a product.
There's a ton of information in this video about various businesses and their unique pain points and how Monday.com has helped resolve them, thus helping new leads feel assured that this is a product that will bring real value into their lives.
5. Grammarly
The push of Grammarly ads over the last few years almost reached the point of a meme to many internet users to just how frequently they saw them, but there's no denying that some of the testimonial content was exceptionally well produced.
This is an excellent example because it's very well produced, high quality, and really helps to detail the personal journey. This is certainly a case of quality over quantity, and in the 35 seconds this ad runs, viewers really get a feel for Kaz's journey and how Grammarly helped him along the way.
And on the note of video length, this is so important to consider, especially with video testimonials and ad content in general. People have short attention spans, so the shorter and more engaging your content, the better.
There are plenty of these Grammarly showcases out there, many with over 10 million views, so it's clearly hitting the mark.
6. Dollar Shave Club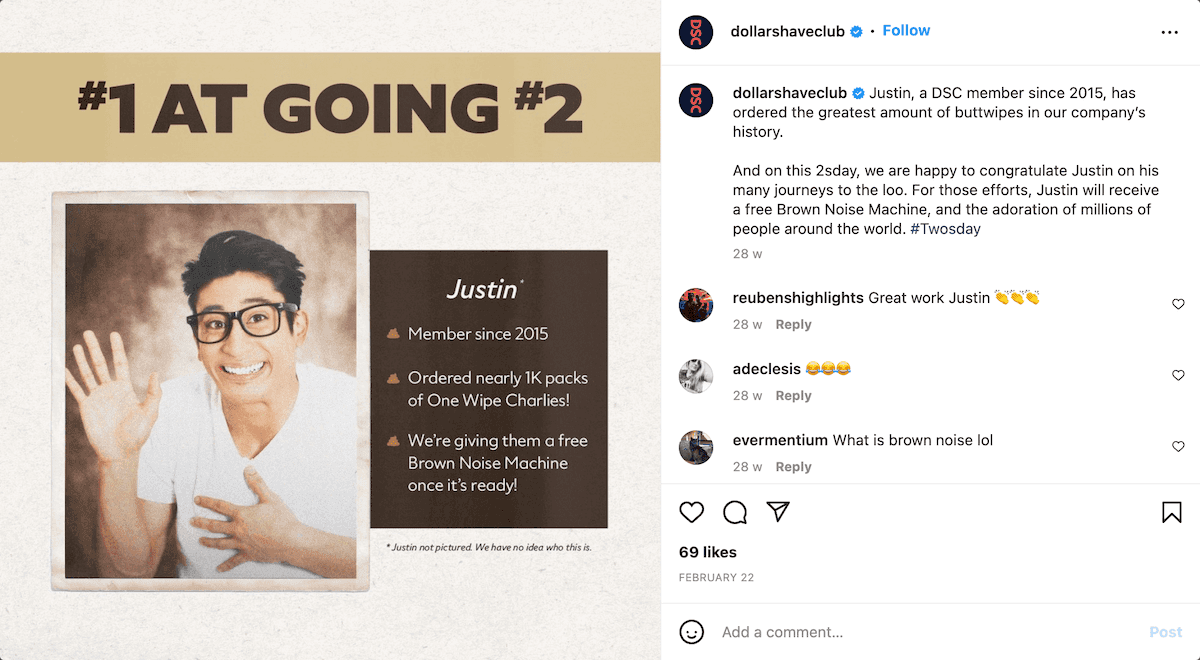 Dollar Shave Club is one of the best when it comes to creative and engaging marketing content, and many would argue it's one of the best in the business. This is a prime example of what they're capable of doing.
What makes this specific case study out is the fact that DSC isn't even using a traditional testimonial. Instead, they're looking at their sales data to find that someone has made so many purchases (indirectly confirming that they love the product) and came up with some catchy content surrounding it.
The asterisk at the bottom referring to the photo is also a beautiful touch that will grab the scrollers' attention.
7. GoPro
A list of impressive testimonial ads would never be complete without a nod towards GoPro, which has some of the most spectacular ads in the tech industry. This particular video is a fantastic example of how individual testimonials can be used to reflect personal journeys while clearly showcasing what the product is capable of.
The detail really hits the mark here because you get a real insight into how things work for an individual, having their pain points addressed by the product in a real-life setting.
Sure, not everybody is a follow-cam skater and filmmaker, but this kind of ad clearly shows that if the product is enough for these leading users, then it will be fantastic for their own personal ventures.
8. Airbnb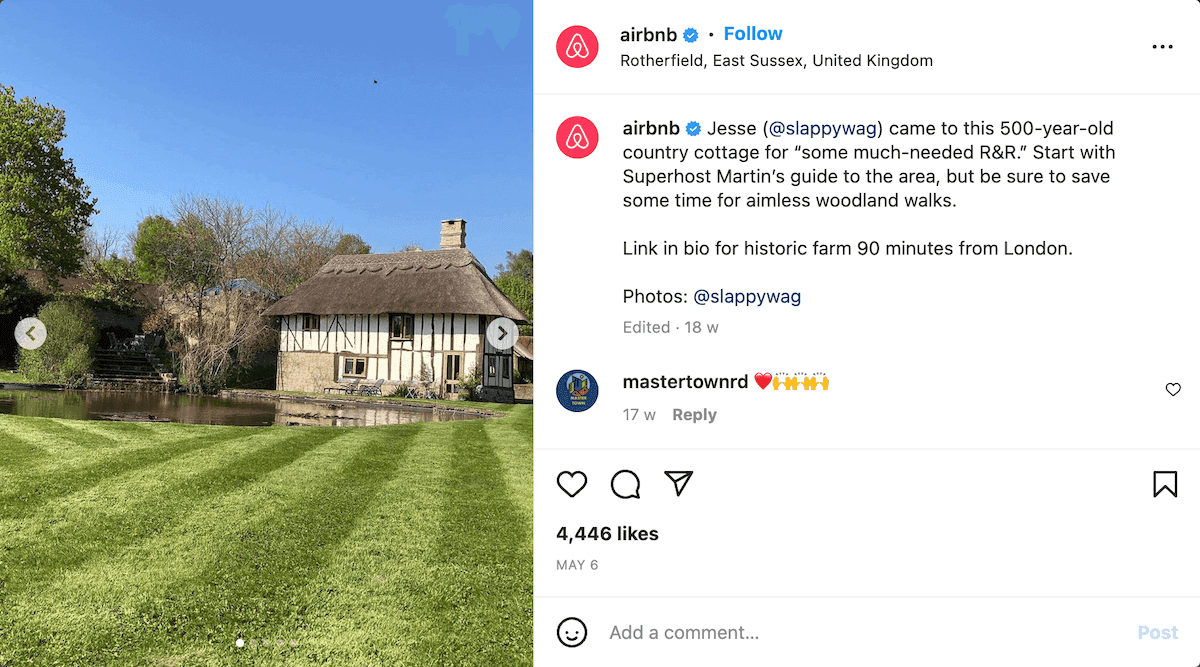 Airbnb has the right idea because it clearly has a ton of user-generated content it can use as advertising material. However, it can really come into its own when it uses high-quality testimonial pieces, such as this one.
The feature is brief, but it shows some lovely photos taken by the user who uploaded them, plus it featured some of the key parts of the trip that the user loved. In this case, heading out of the bustle of the city to find some much-needed R&R.
The content is relatable and really speaks to the target market, many of whom would feel the same. Coupled with introductory text on what customers can expect, this ad creates a feasible holiday image in the consumer's mind that can quickly lead to conversions.
9. Fugoo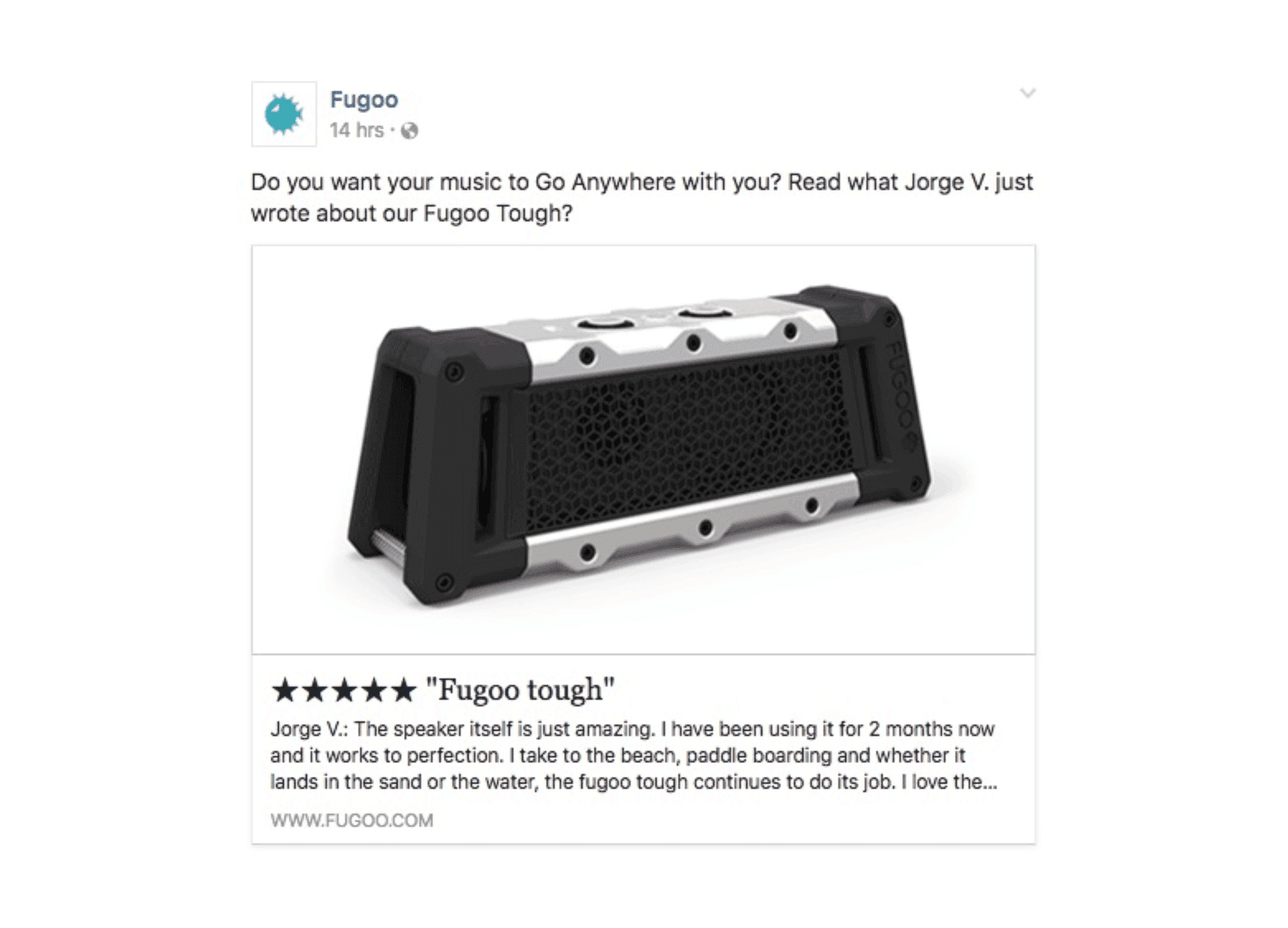 While we're here, it's worth remembering that there is a very basic form of testimonial marketing that's affordable and acts as a great starting off point. There's no doubt that this kind of ad is now outdated, and it feels almost primitive compared to the other ads on our list, but there's certainly space for it.
It also helps to drive one simple point. Whatever kind of ad content you're creating, you can incorporate testimonial content to bring it to life. The five-star graphics in this ad, coupled with the text, is an effective way to drive the message. The username being included is also a nice touch because it helps the ad have authenticity.
However, while effective in terms of ad content, the ad itself lacks an engaging element or two. Or three.
If you're planning to use static display ads or even basic video ads, you need to make sure you're adding a creative aspect that engages the leads. Add some graphics, animations, music, or text on the screen.
While this kind of ad represents the basics, most users will simply scroll past it and won't give it a second look, and this is the exact opposite of what you should be doing.
10. Dove with Molly Burke
This ad is a little different because, technically, it counts as influencer marketing, seeing as though Molly Burke has a significant social media audience, but the concept is what matters here.
The takeaway from this ad is that Dove has gone out of its way to find someone unique in how they live their life, which helps them showcase their product in a unique and interesting way.
Molly is blind and, as she explains in the video, sees the world through touch, which promotes the product for touch, softness, and so on.
The takeaway here? Find testimonials from customers that have unique out-of-the-box experiences with your products and help shift the perspective on what you're offering in an interesting way.
11. Heineken
In previous examples, we touched on how testimonial ads can be used to address personal pain points that your customers may be able to relate to, but you're never just restricted to this approach.
Instead, you can use a collection of testimonials to address collective pain points or problems that many users face. This isn't as specific as targeted pain point representation, but it's a great way to introduce yourself to a larger audience, thus getting you the reach that will draw in the most number of leads.
This ad focuses on how the hospitality industry was hit by the COVID-19 pandemic, resonating with both businesses and consumers. It's also a great example of how ads can be a mixture of both traditional advertising (stating how charitable the company is) and testimonial marketing (adding customer stories to back up claims), giving your new leads the best of both worlds in terms of messaging and representation.
Over to you
And with that, we come to the end of our exploration into the world of testimonial advertising. At this point, you should feel inspired towards how you can use testimonial content in creative and interesting ways to drive sales.
Of course, video content is the most powerful form of content in this modern age, but even if you can't afford a production company, Niva.io makes it easy to create high-quality video testimonial content with a few clicks.
Check out the app today and see how it can help you create powerful marketing content like never before.