How to use social proof in eCommerce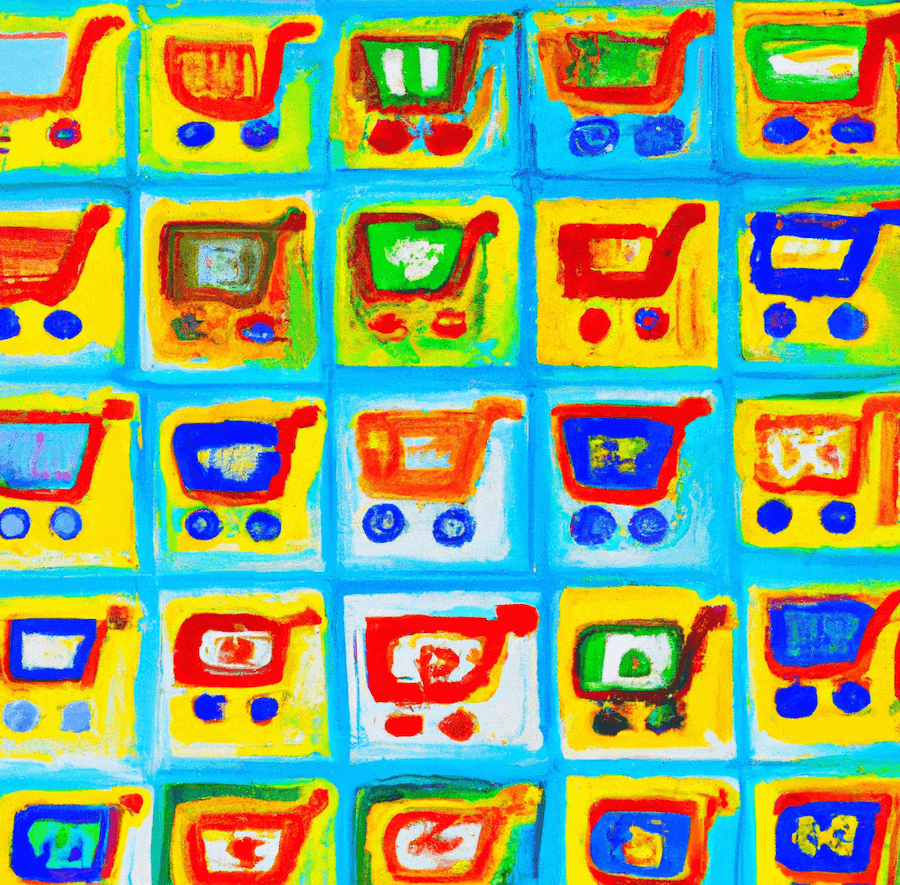 You've probably heard the saying, "people are social animals."
It's true - we're constantly looking to others for cues on how to behave. In the business world, this is called social proof, and it's a powerful tool your business should be using to generate sales, increase conversion rates, and grow.
This is essential for an eCommerce store such as your own because this is how you build trust in your business and get customers to spend their money with you instead of avoiding you because they're not sure they can trust you.
In this guide, we're exploring all the unique and interesting ways you can use social proof to improve your store and enjoy these benefits yourself, especially when you're just starting out.
Let's get right into it.
12 ways to use social proof for your eCommerce store
There are many ways to creatively and effectively use social proof to boost the growth and success of your eCommerce store. Let's dive into them in detail to show you exactly how you can make this information work for you.
1. User reviews and testimonials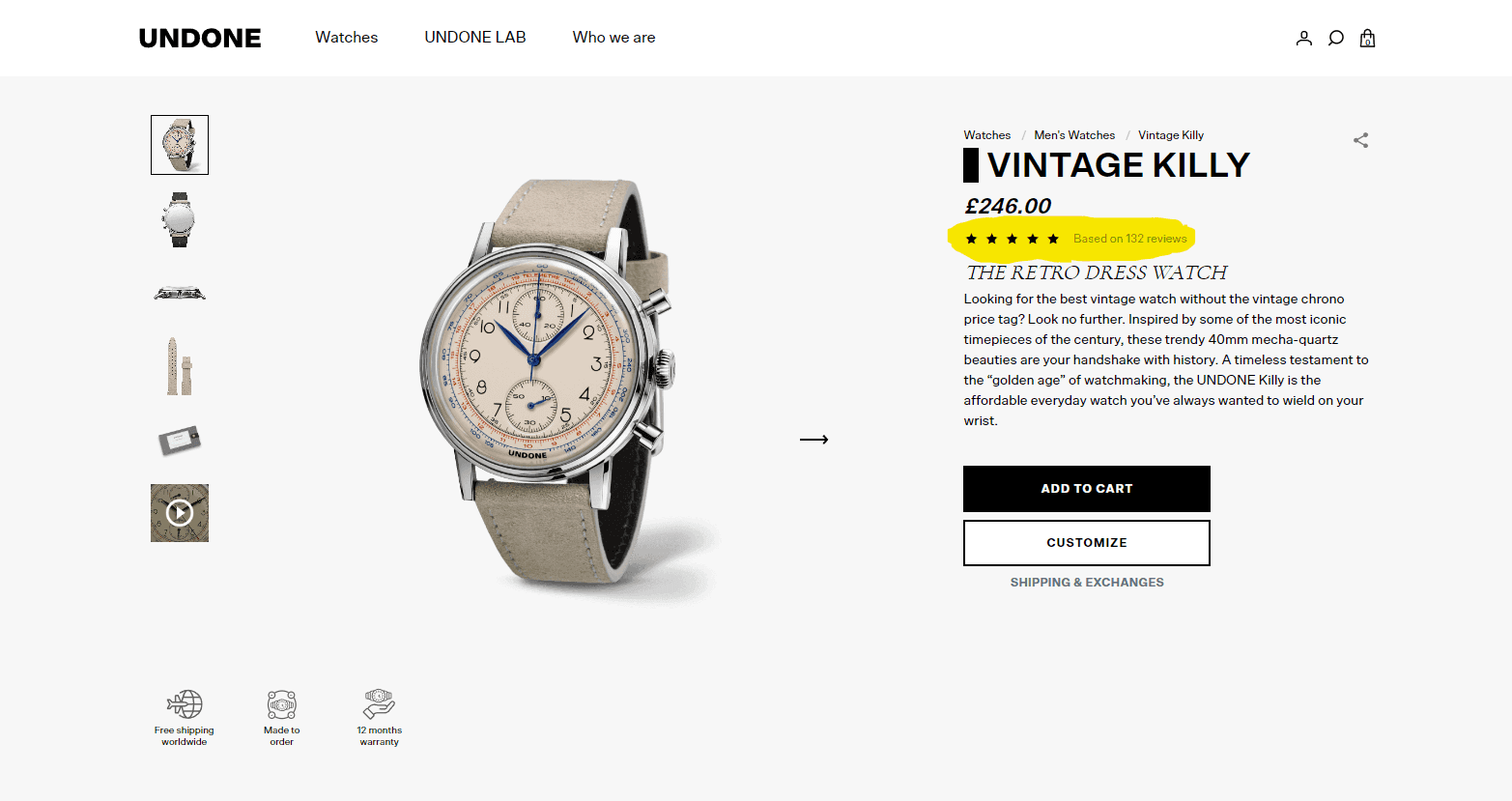 User reviews and testimonials are the gold standard when it comes to social proof for your eCommerce business.
One of the most common social proof signals is user reviews and testimonials. It's why when you're shopping on Amazon and find a product you like, one of the first things you do is scroll down and look for those star ratings and reviews to see how people think about this product or company.
Think of it this way, when was the last time you bought a product rated under three stars? This type of social proof is highly effective because it comes from real customers who have actually used your product or service. It comes from people that have already taken the risk of buying from your store, thus meaning that new customers can have their reservations alleviated.
They don't need to take the risk because someone else did, and it turned out really well. They can now trust this company.
If you don't have any user reviews or testimonials yet, start by reaching out to your most satisfied customers and asking them to leave a review.
You can also offer incentives, such as discounts or free shipping, to encourage people to leave a review. Just be sure that you only offer incentives for honest reviews - you don't want to end up with a bunch of fake reviews!
Also, don't fake your reviews. This is false advertising and is illegal in most parts of the world. Instead, focus on creating a sustainable, honest business with a stable business model that takes onboard customer feedback and improves over time. This is how you win the long game.
2. Social media mentions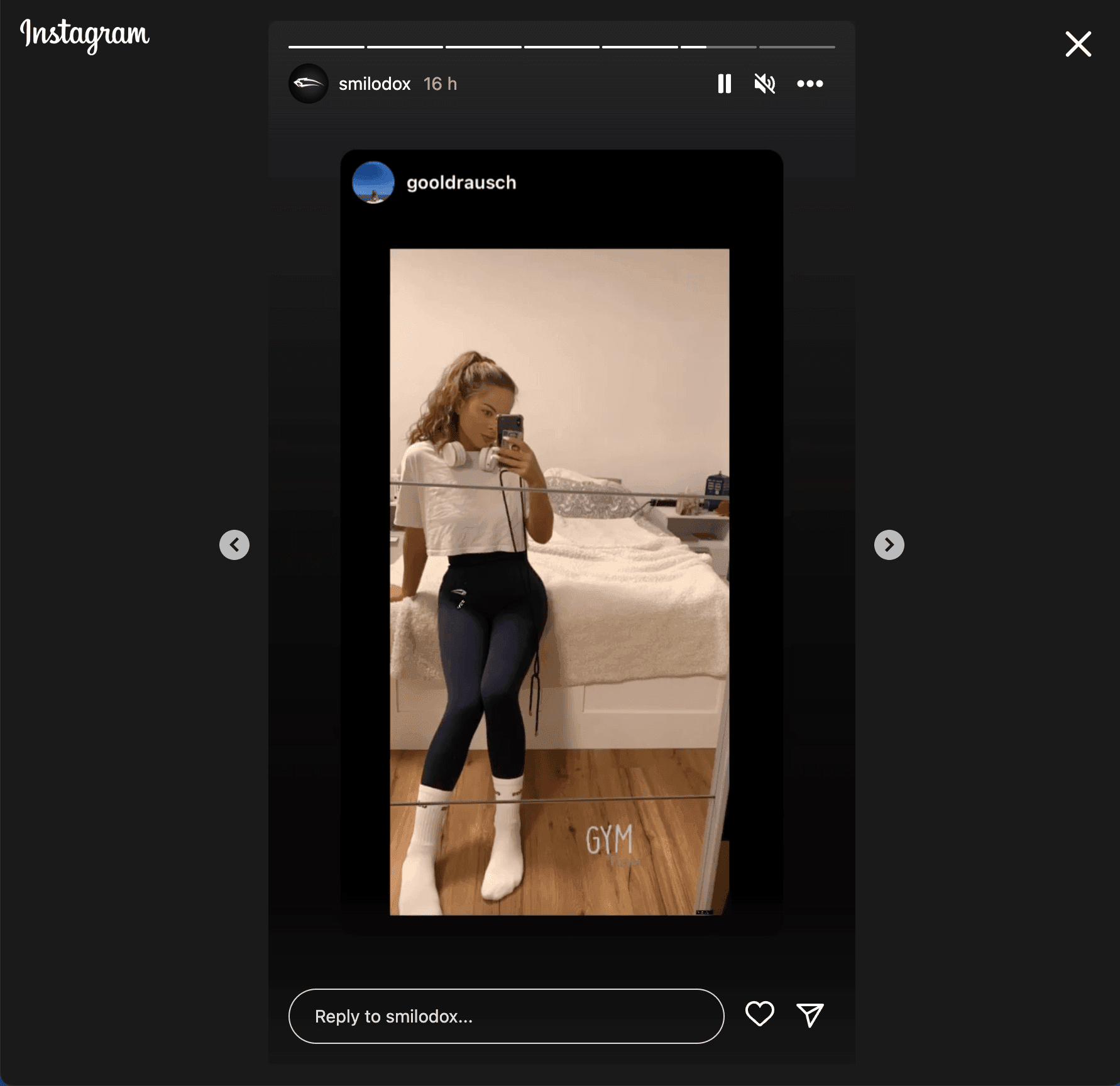 Whenever your eCommerce business receives a social media mention, such as getting tagged in a photo or post, be sure to share this post and retweet it. Comment and interact with the customer, and create a connection with them.
This is one of the best ways to show potential customers that people are talking about your brand, and that they love what you're offering. When customers post to their followers, especially about a brand, they're putting their credibility on the line, and to post about you means you really provided value to them.
So much so that they want to share their experience with their world and be seen associating with your brand. Sharing these posts yourself and acknowledging them shows the customer you care about them and are grateful for their action, and to the rest of the world you care about your customer base. It shows you're paying attention, and this is big for creating trust.
You can also install widgets onto your eCommerce store that display your latest social media mentions automatically.
3. Press mentions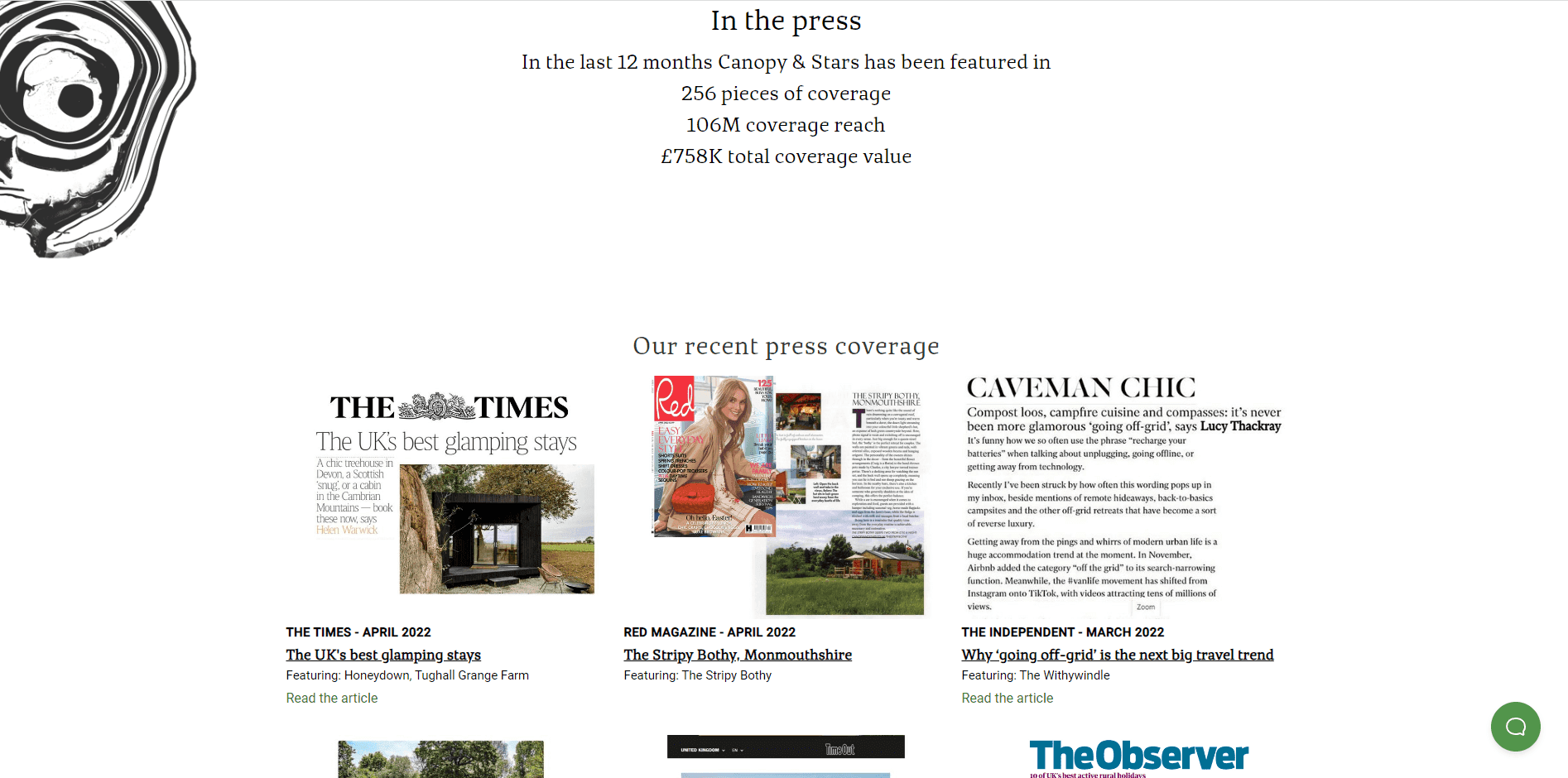 On top of social media mentions, any other forms of media attention you receive from newspapers, magazines, features, and online publications that are more company or organization-related are ideal for building trust.
Take Forbes, for example. Tons of people read Forbes content and regard it as an authoritative publication. Therefore, when they mention a business, people trust this business because Forbes knows what they're talking about.
Thus, you're building trust.
If your brand has been featured in any type of media, be sure to showcase it on your website! This is a great way to show potential customers that your brand is credible and trustworthy.
If you don't have any media mentions yet, reach out to journalists and bloggers in your industry. You can also run PR campaigns or social media campaigns to encourage people to mention your eCommerce brand. Guest posting and releasing press releases on new products and services can also help!
4. Endorsements from experts
If you can get endorsements from experts in your industry, you're onto a winner. This is seen all the time in eCommerce stores, both big and small. To customers, this is fantastic proof that your product is what you say it is.
Take this example from Amazon, for example.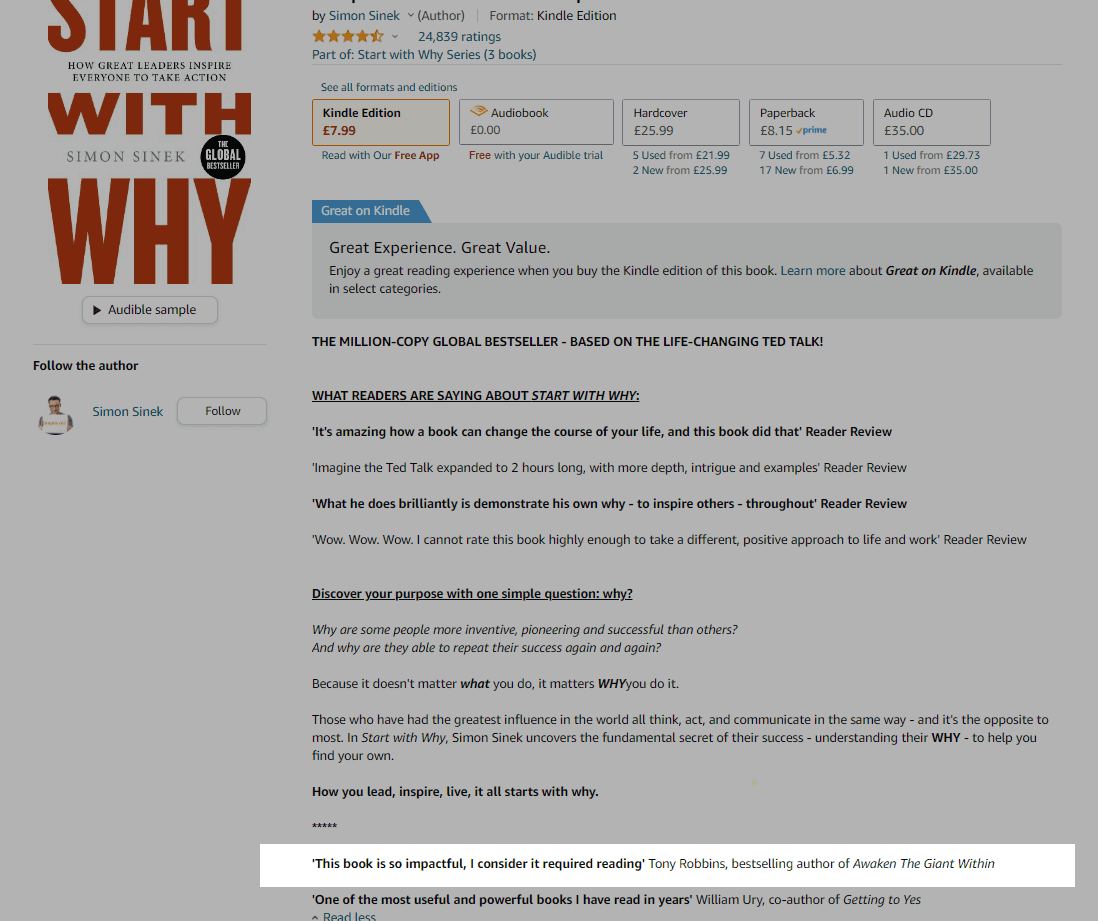 At the bottom of the description, Tony Robbins provides his take on the book. Tony Robbins is a huge, reputable figure in the self-development industry, so for a potential reader to read this who doesn't know Simon Sinek, the author, but has heard of Tony Robbins, a lot of trust is suddenly created.
To acquire an expert's opinion, you can reach out to the authoritative figures in your niche (this could include influencers) and ask them to leave you a testimonial or post in return for a free product. You want the expert to be honest for the best results.
5. Endorsements from celebrities
Hand in hand with the points above, celebrity endorsements are massive when building trust with your audience and beyond. Celebrity figures already have their audiences, so for them to mention your brand will naturally skyrocket your sales and credibility.
Of course, if you can get Brad Pitt or David Beckham on your side, you're made, but this is probably not possible for a business on your side. Instead, start small and work your way up.
Take this interior designer on Fiverr, for example.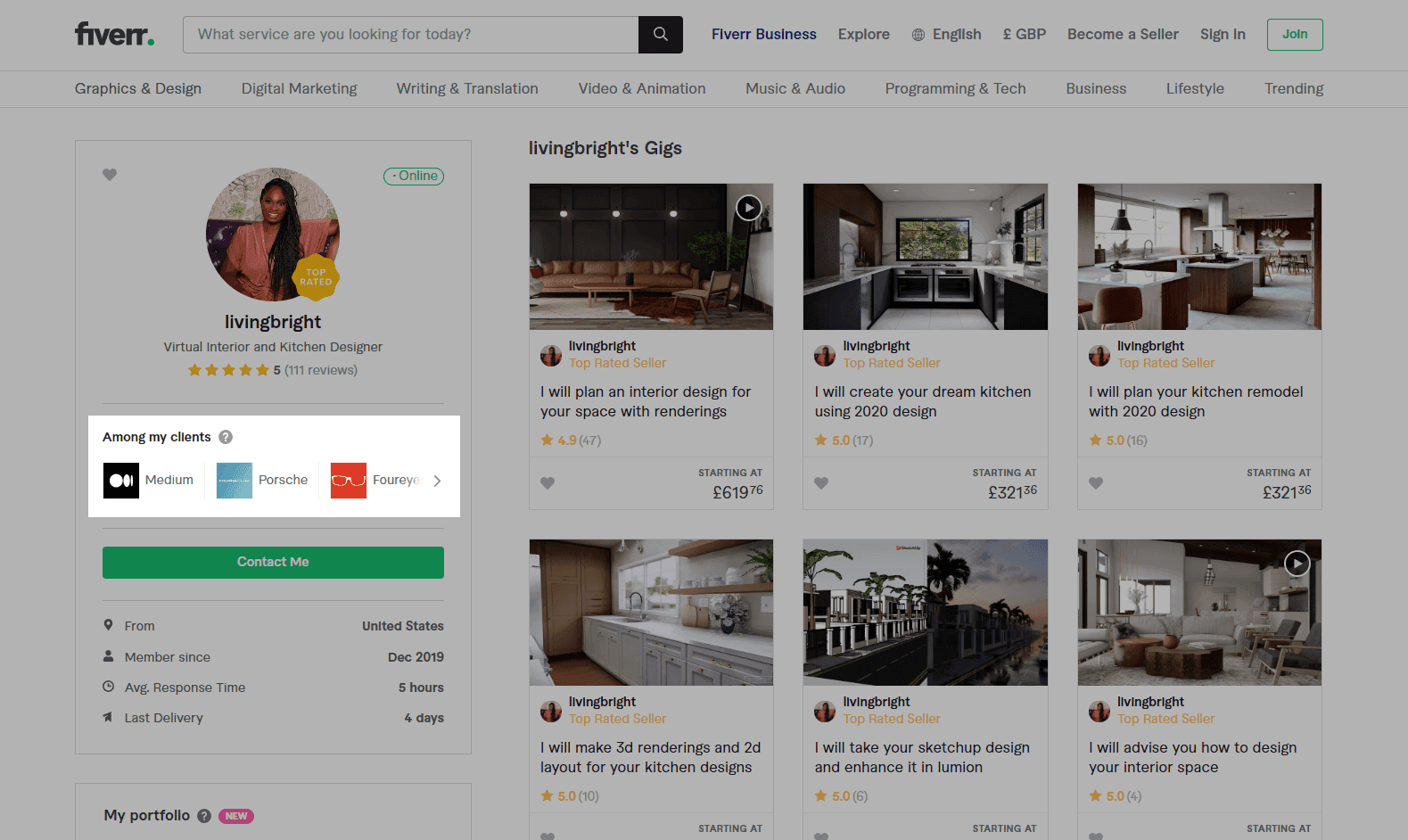 On the side, you can see the 'Among my Clients' tab that highlights companies that the designer has worked for, including Foureyes Furniture. Foureyes is a popular designer YouTube channel with nearly one million subscribers, which gives them somewhat of a celebrity status among their audience.
For Living Bright to receive a positive endorsement from Foureyes allows her to promote herself with more trust and credibility because she can fall back on the endorsement from a larger channel that clearly states her team and her offer fantastic value.
6. Customer photos and videos
While we touched on interacting with your customer's posts and mentions, don't forget about the photos and videos they create. This is known as user-generated content (UGC), and your eCommerce store must absolutely use it where you can.
We've touched on GoPro a lot, and that's because they take user-generated content to the next level. Use the #GoPro hashtag, for example.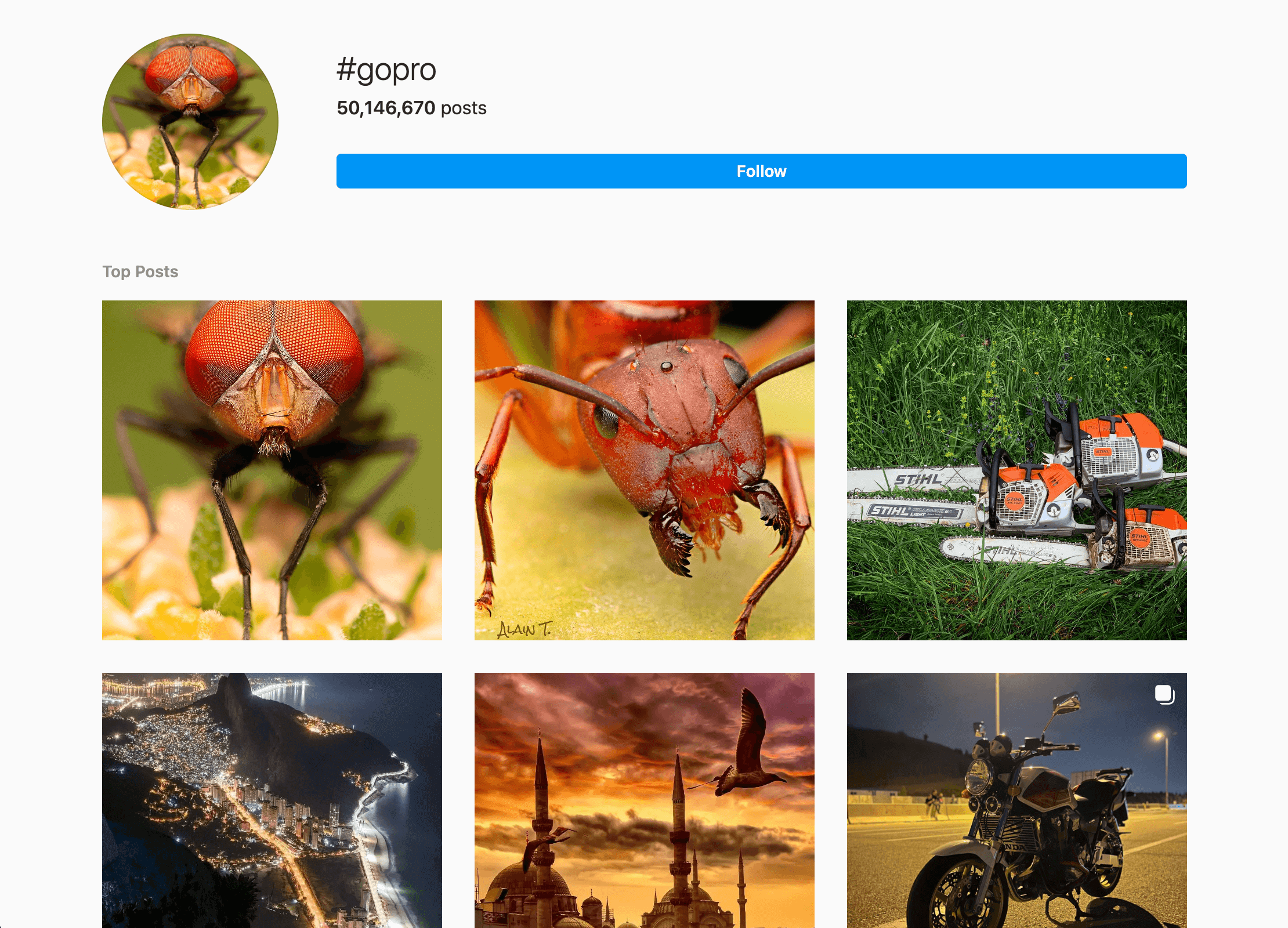 With over 50,000,000 posts, it's clear that GoPro has a ton of proof that its customers absolutely love its products. This clarifies the value that GoPro provides and encourages people to want to get involved, which leads to greater purchases.
As an eCommerce store, getting customers to take a photo or video of them using your products can be a great way to make testimonials and reviews feel real and personal. They provide more insight into the buying experience.
To encourage this, you can run an email campaign with customers and incentivize them to send you photos of them using your products or perhaps run a competition for the best photo.
Also, allow customers to upload their own photos when leaving a review to generate content naturally on your product pages.
7. Mark products as a 'popular choice'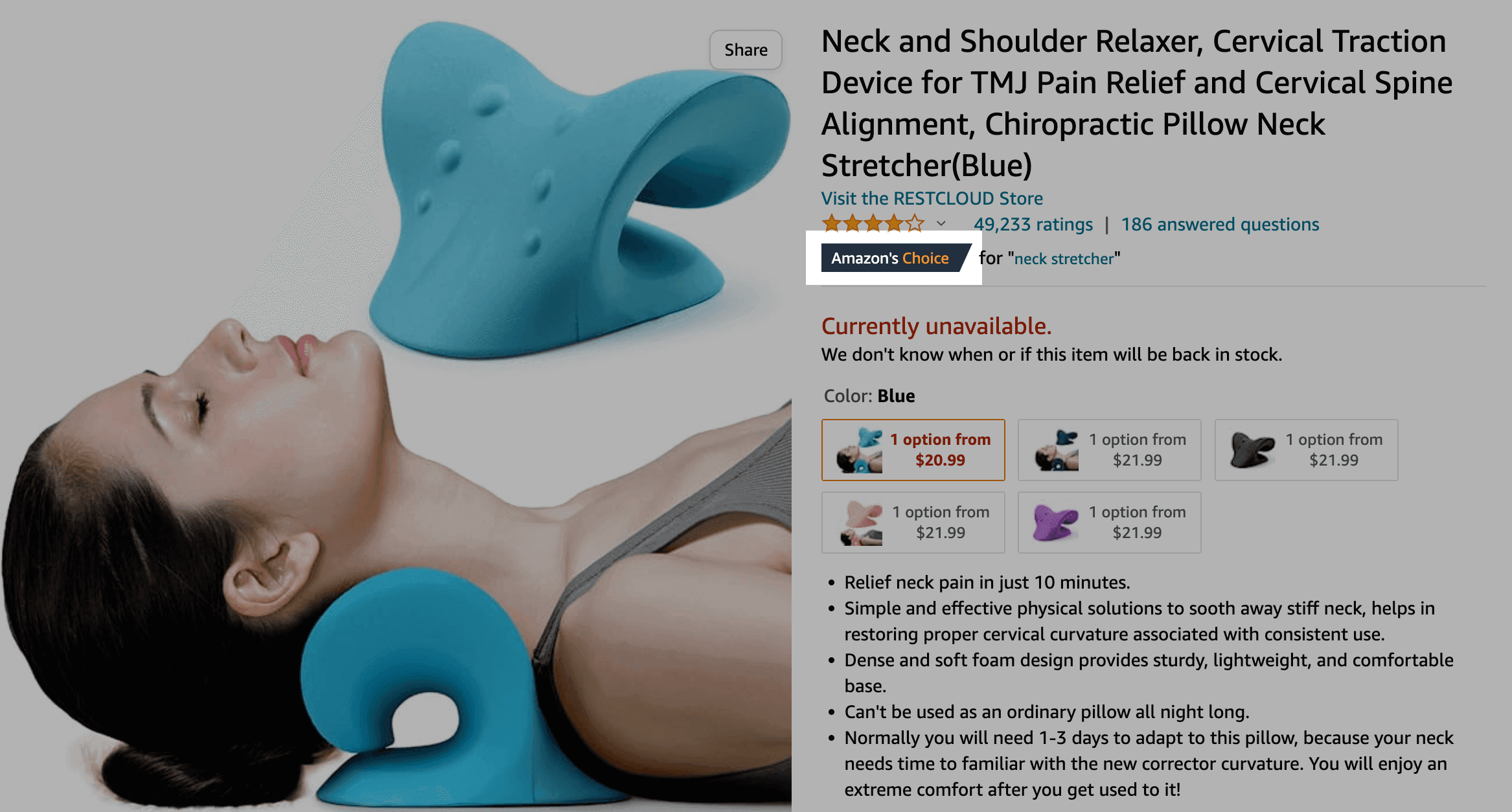 You've probably seen the 'Amazon Choice' tag on Amazon.com - this is an example of social proof in action. By tagging certain products as a 'popular choice', Amazon effectively says that these are the products their customer's trust and love.
You can do something similar on your eCommerce store. Simply tag your best-selling or most popular products as a 'popular choice' and watch as potential customers are more likely to buy them!
You can get creative with these tags, but here are some ideas to get you started;
Best Seller
Hot Pick
Our Recommendation
Customer Favorite
Fire Sale
8. Show social media follow counts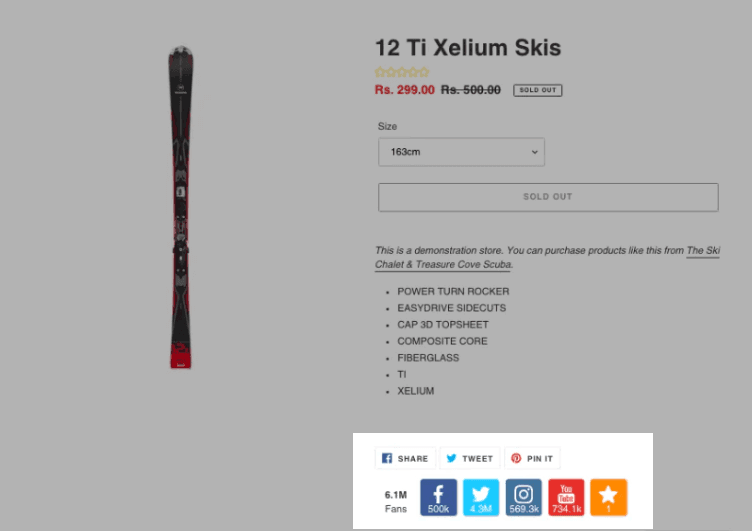 If you have a large social media following, showcase it on your website! This is a great way to show potential customers that your brand is popular and trustworthy.
9. Show real-time product views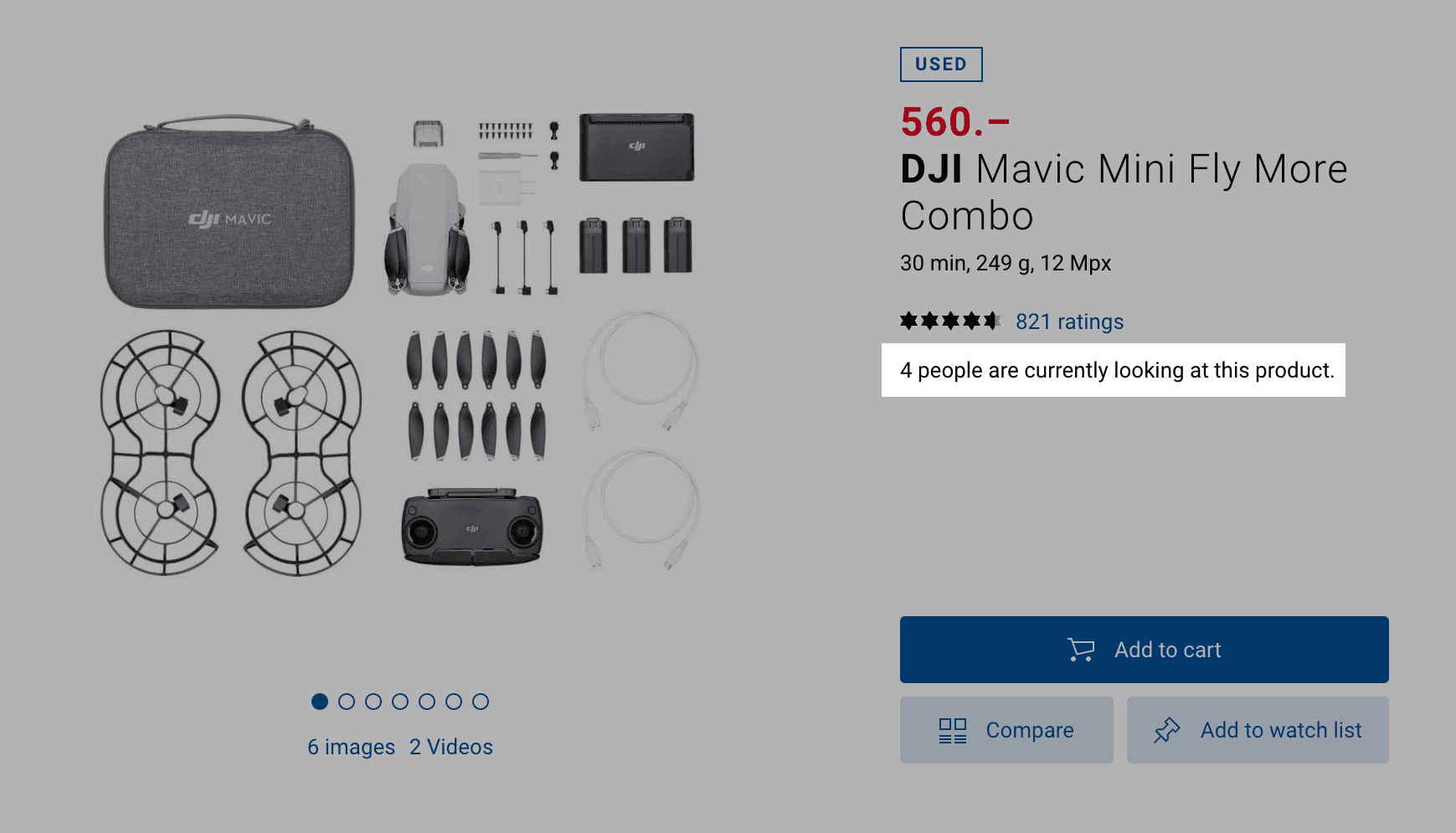 If you want to drive social proof home, consider showing how many people are viewing the product in real time. This is a great way to show potential customers that your product is popular and in demand. There are lots of ways you can do this creatively.
Forbes displays how many people are currently reading their top and trending articles in real-time, giving even more credibility to the fact they are, in fact, trending posts.
For an eCommerce store, you can show this under the product to grab the customer's attention. This not only brings other people into the awareness of the customer, but it can also create a sense of urgency because if they really want the product and you only have limited stock, they will feel the need to act now.
Therefore, coupling this feature with product inventory real-time counts can be very effective.
10. Recommend products with 'People also bought...'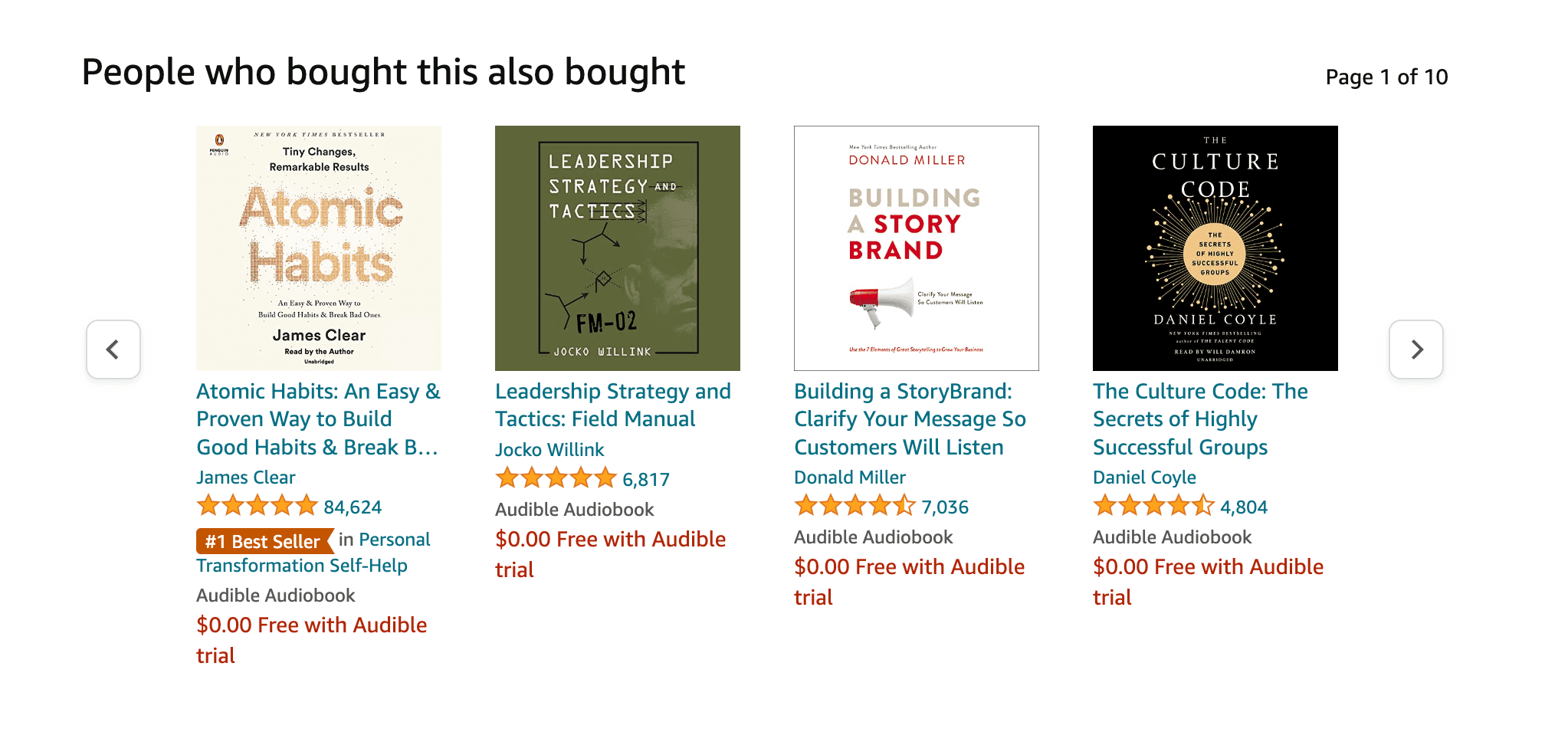 If you want to increase social proof (and sales!), consider recommending products with the 'People also bought...' feature. This is a great way to show potential customers that others have purchased the product, are happy with it, and have been purchasing other products from you.
Having this feature creates the image that your website is a one-stop-shop where people can get all their needed purchases in one place, again adding to your store's credibility and raising your degree of authority.
11. Show how many previous purchases there have been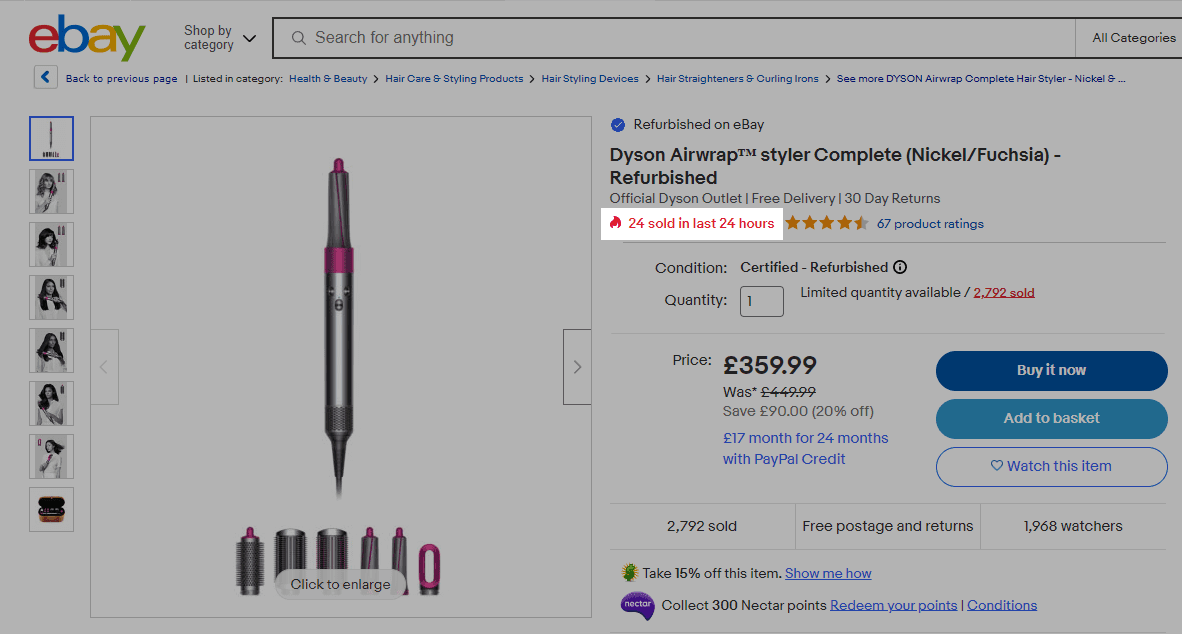 Another great way to use social proof is by showing how many previous purchases there have been. This is a great way to show potential customers that your product is popular and in demand. Widgets can be installed to make this simple.
eBay does it here with the prominent red text next to the reviews that show precisely how many products have been sold in the last 24 hours. The more that are sold, the higher the sense of urgency the potential customer has to make a purchase now. And, of course, the more credibility there is since more people spend their money on this product.
12. Showcase your awards and accolades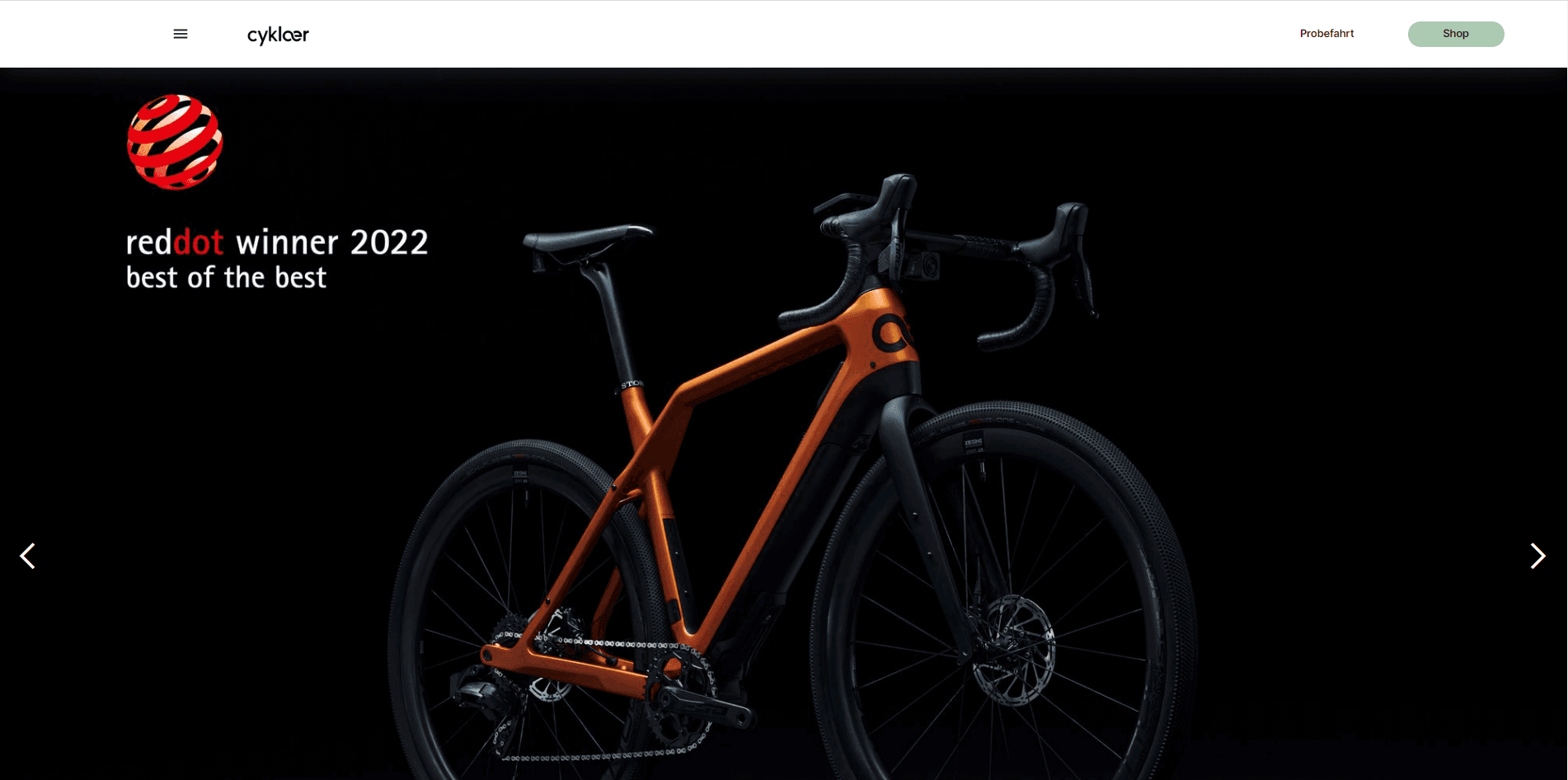 If you've won any awards or received any accolades, be sure to showcase them on your website! This is a great way to show potential customers that your brand is credible and trustworthy.
Even seeing the award is enough to invoke credibility and status for many people. Why would you go anywhere else when you can buy an award-winning product or work with an award-winning company?
However, some people will look into the awards to see what they're all about. Take Cyklaer, a bike manufacturer and online retailer from Germany.
One of their latest 2022 smart bike models won the Red Dot Design of the Year award, which in itself is impressive and invokes curiosity. However, if you were to dive deeper, you'd find that Red Dot is one of the best awarding bodies in the design industry and has been around for over 60 years, clearly showcasing they are an authority and know what they're talking about.
From a customer perspective, this is all the reputation and credibility they may need to move forward with their purchase.
Taking the focus away from yourself
As you can see, the main point of using social proof is to take the attention of content away from you and to place it on people and organizations outside of yourself. Whatever you, as an eCommerce store, write on your website, social media profiles, product posts, and landing pages, customers know you're marketing to them and are trying to create a positive impression.
However, whether you're showcasing the opinions of other customers, social media masses, other businesses, experts, celebrities, award bodies and many more, you take the perspective of content away from yourself and into the hands of people that you can't control.
This is why social proof works.
Summary
There's no doubt that social proof is a great way to increase sales and conversions on your eCommerce store, and you absolutely must be using it in your marketing campaign.
And with testimonials so effective, Niva.io is here to make things even easier for you. The app helps you collect testimonials and turn them into a highly digestible video format that will grab customers' attention and help build your status. Start using social proof in a way that truly helps your eCommerce business to thrive.