How to spot fake testimonials in 13 definitive ways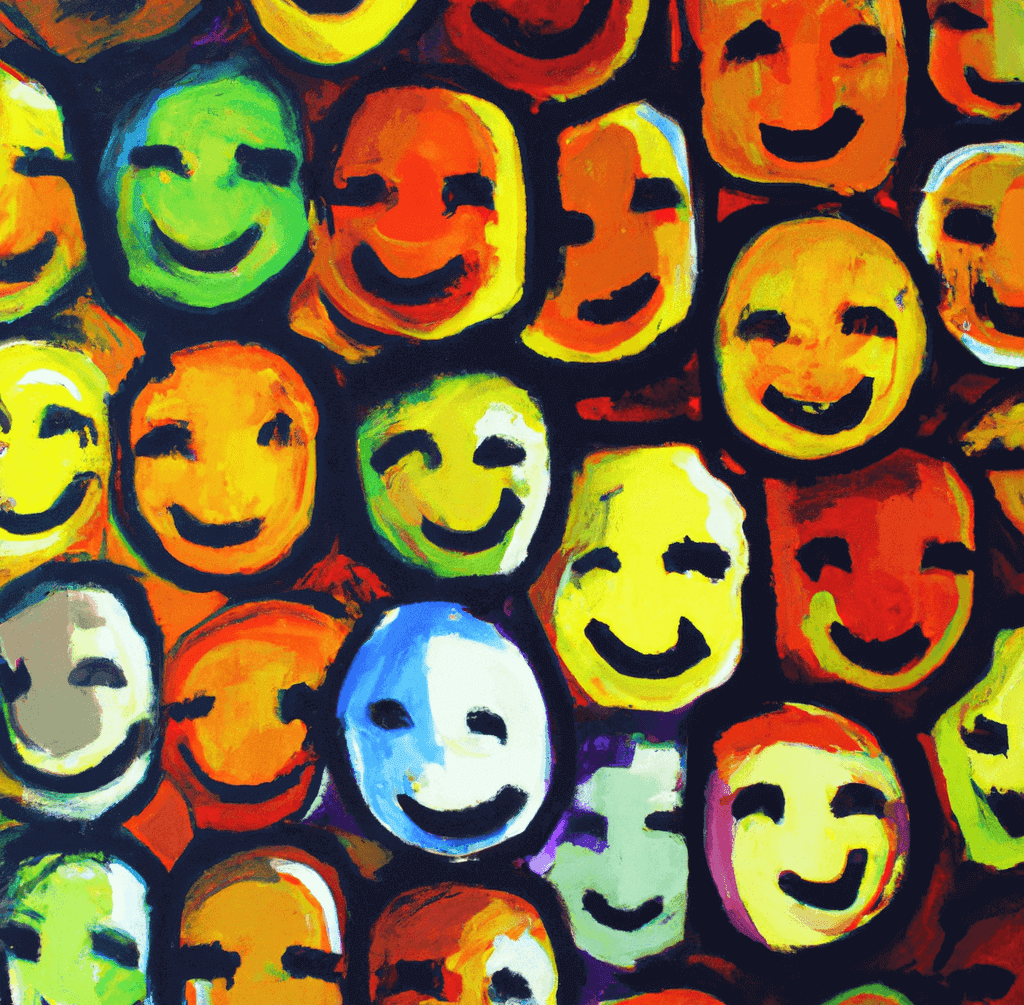 Last updated
September 2022
When shopping online, reviews are one of the most important factors surrounding your purchasing decision,but what can you do if the reviews aren't real? Big and small companies are guilty of using easily generated fake testimonials and reviews for their products.
It's big business. An official EU report found that 55% of reviews on screened websites were fake and actually violated EU law. Another study estimates that $152 billion is spent worldwide as a direct influence of fake reviews, and another found that over 39% of all reviews online are unreliable at best.
In response, this definitive guide will dive into absolutely everything you need to know about learning how to spot fake testimonials, so you know you're spending your money in the right place. Let's go.
1. Using tools to detect fakes and scams
Using software and tools is one of the best, most innovative, and fastest ways to spot a fake. Due to the rise and impact of fake reviews, there's a whole host of tools that are readily accessible for you to use to help you find the truth.
Such tools include;
Taking Fakespot, for example, you can use this service on all major eCommerce platforms, including Amazon, eBay, Shopify, Walmart, Sephora, and more. It uses AI to search review content across the internet and allows you to filter all reviews on a product based on its authenticity.
On the website, you'll get a nice overview like this that shows you how authentic it thinks the reviews are. If there's any doubt, this kind of product page is best avoided entirely.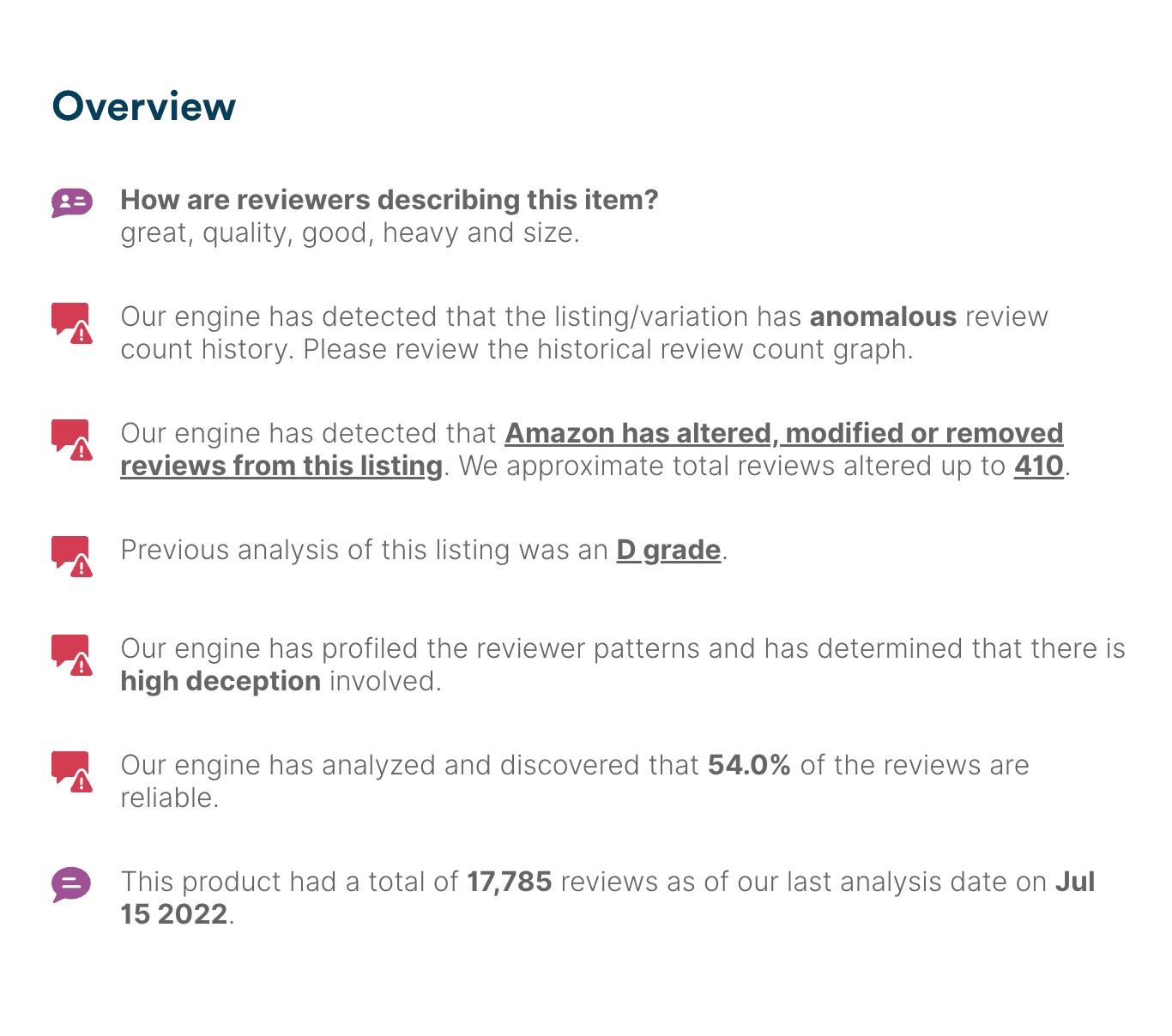 2. Click the user, see what they post
A simple way to find whether a review is fake is to click the user who's posting it. If you find the account has been posting on the same sort of products, the same brand, or is saying the same thing on every review, then you know this is a fake account.
Take a moment to think about how often the average person reviews something.
Maybe once every few months? Maybe every few weeks, unless they're a hardcore reviewer. If you find an account posting every single day, or even multiple times a day, then it's safe to say this account is probably owned by a bot being used by a business to sell fake reviews.
3. Disregarding five-star reviews
Sure, there are plenty of products out there that people will genuinely love and believe they deserve five-star ratings. However, as a rule of thumb, you'll want to disregard five star reviews when shopping online because this is where you'll find fake reviews en masse.
Unless you can read a five-star review that talks about how great the product is but also describes room for improvements or some negative biases, then it's a good habit to ignore them completely.
Look for the three or four-star reviews as they'll usually give a more accurate representation of the product because no product is perfect. Many shoppers will be happy to share their experiences like this rather than only singing its praises.
4. Look for recent ratings instead of top ones
While it differs per platform, fake reviewers have a way of manipulating their reviews to get them to the top of a product page's 'Most Helpful' or 'Top Reviews' category. This makes them hard to ignore.
Instead, simply change this tab to the 'Most Recent' category.
If you actually read through the Top Reviews and you see a lot of keywords, bolded text, or capital letters on certain words, or the sentences themselves don't really make sense, then chances are this is a fake used to game the algorithm.
5. Look for the extremities
Fake reviews can be used in two ways.
Either they can boost a product's rating up using a positive bias, or they can be used to bring a competitor down using a negative bias.
If you're looking at a review and it's insanely positive or insanely negative, and there's absolutely nothing to say on the other side, then the chances are it's a fake.
In reality, most products will be good in some ways and bad in others. While some people will have a terrible experience and want to vent about it, most people will have pretty neutral experiences that will be reflected in unbiased, honest reviews.
As a rule of thumb, if a review is only positive or only negative, you can't be sure of the intention behind the review, and therefore it isn't fair to base your opinion on it.
This is an interesting example. Do you think this is real or fake?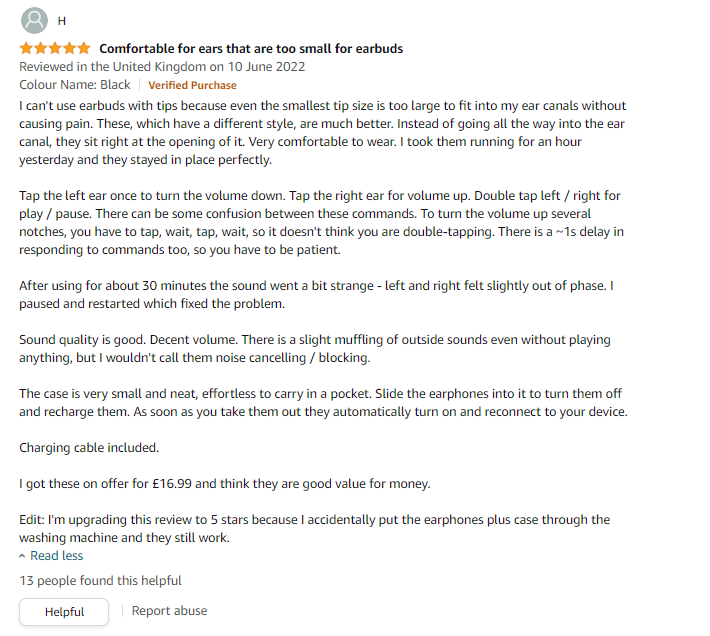 On the surface, it looks pretty legitimate. It seems to cover a lot of ground and critiques the product as well as states areas where it could be improved. However, all the signs point to this review being faked.
Firstly, there's a huge emphasis on features. If you took out all the content that simply describes the features of these headphones, you'd cut the review down about 20%.
Next, there are issues and negatives, but every single one has a positive attached to it, and this is a red flag. Notice how there was a glitch on the project but it resolved itself? It tries to look like it's a problem but it's not really, which is a common tactic to try and improve the feel of authenticity with the review.
Also, let's click on the profile of the person, who is just named H, and see what else they have posted on.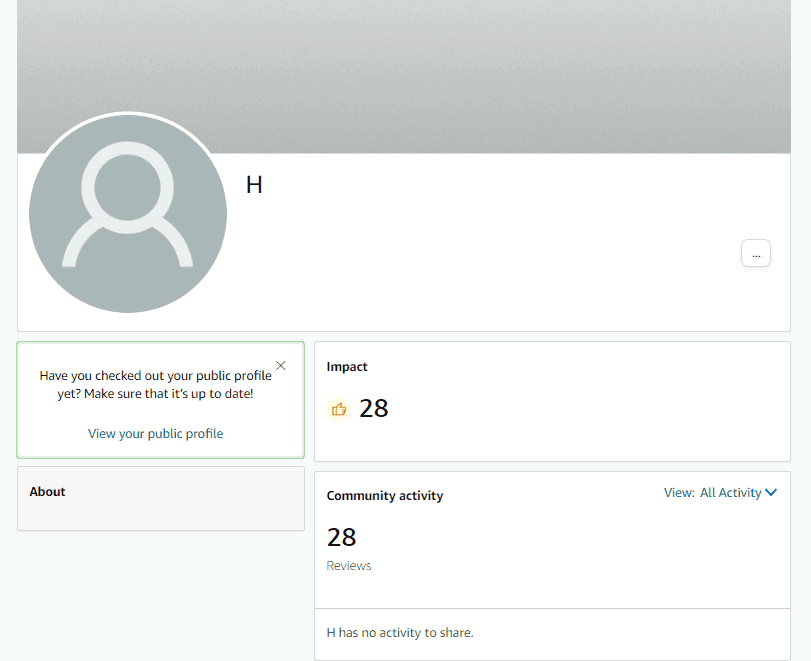 This kind of profile is suspicious at best, especially when you compare it to a genuine reviewer, which would look something like this;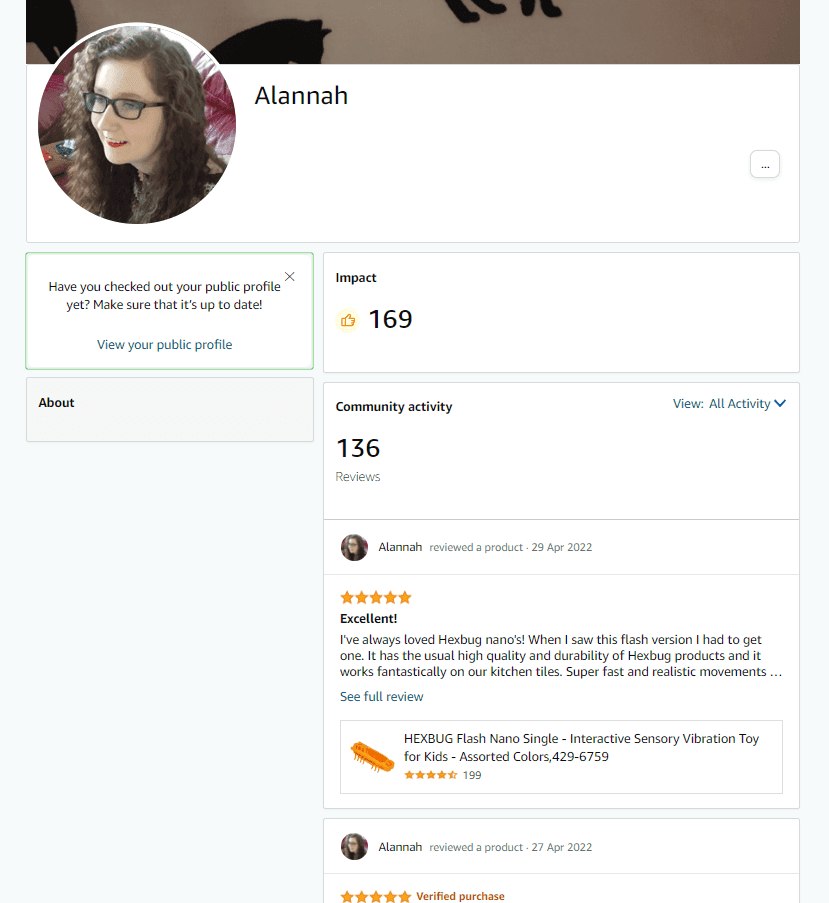 Having a scroll down her page, you'll see balanced sets of reviews like this;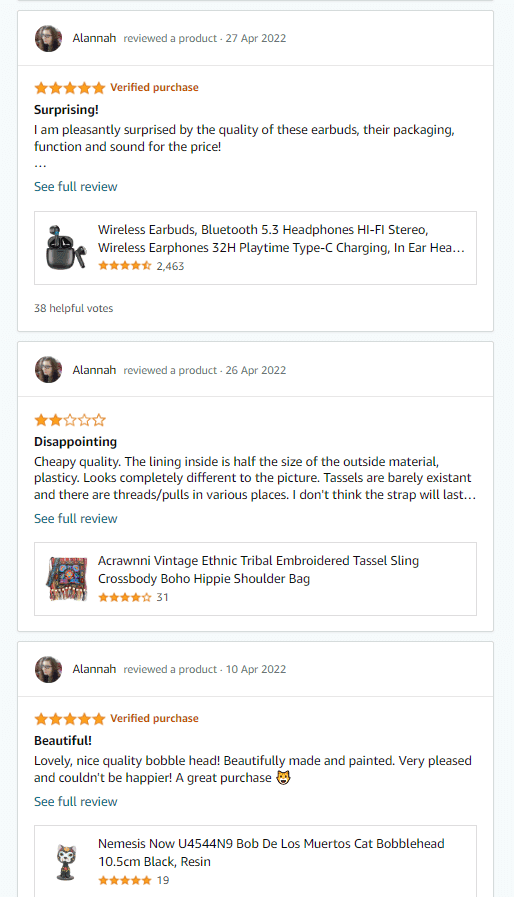 The dates look good, there's a variety of content that's positive and negative, and feels real. Also, there's a lack of personal details, which the original example had an extensive range of. And personal stories like that always suggest you should use caution.
6. The rise of personal stories
You may think personal stories are a sign that a review is real, but it's the opposite. Think about it, how often are you going to post about the intricacies of your life story in an Amazon review? You probably wouldn't. While these testimonials can feel genuine and speak to you as a human, that's where the problem lies.
When you have a review that says, 'Oh my Lord, this product changed my life,' or 'My pet passed away, and this product made me feel so much better,' yes, they tug at your heartstrings, but that's the point.
The best review is a one that focuses on the product, not the customer themselves. Unless that person is an influence and people read the reviews or content because they enjoy the person's personality, this is something you'll want to avoid.
7. The quality of the grammar, good and bad
Take a moment once again to think about the average reviewer.
Your everyday Joe, or Josephine, who's just leaving what they think on a product. Someone like this isn't spending a long time going through their grammar or will be massively concerned about how they write. That means this is another sign to look out for.
If a testimonial is written in a highly polished way and says something like;
Exceptional. This thread on this jumper is immaculate and was perfect in terms of aesthetic and design.
Then it's probably not real. Of course, it could be all the red flags we've spoken about, but there's less chance of it being so than just a regular review.
8. Not a verified purchase
There are endless eCommerce platforms that will now let you know whether the product was purchased or not. On Amazon, this puts a 'Verified Purchase' tag at the top of the review. On Steam, the PC gaming platform, you can see how many hours the player has on the game at the time they posted the review.
If a review doesn't have this tag, then there's certainly an increase in the chance that the review is fake because they clearly haven't purchased the product, at least not from the site they're reviewing on.
That's not to say all verified purchases can be trusted. Sometimes a business will give a reviewer a free product or gift card to buy the product in return for a review, so keep your wits about you still.
However, as a rule of thumb, if there's a way to check the reviews of verified purchases only, then do it.
9. Ask who controls the website
Always something to bear in mind.
Who is controlling the review content of the website you're shopping on? If it's a third-party website like Amazon or eBay, these are big companies that own the websites, and the businesses selling through these platforms don't have control over the content posted about them.
However, what about a business's own website?
Always exercise caution when looking at an eCommerce store's store pages because you can never be certain whether the reviews being posted are real or not. This is because a website could effectively just make up and post as many as they wanted.
What most websites are doing to get around this is connecting their websites to trusted third-party review platforms like Trustpilot. This means the reviews you see are authentic and have been screened before posting.
Also, the brand has no control over what content is published on these sites.
10. Reviews aren't consistent across platforms
While we're on the subject of review platforms, as a shopper, you should ensure you look across multiple websites before deciding whether to buy a product. If one website has glowing reviews, another has average reviews, and another has poor reviews, then you know that something is up, and you should exercise caution.
If it's that inconsistent, you should probably avoid the brand altogether because some of those reviews will be fake.
On the other hand, if a product or service's reviews are relatively consistent across the board and across multiple platforms, then you know that the story these reviews are telling is probably accurate.
11. Check the date
An effective yet often overlooked way of checking for fake reviews is to look at the review's date. While products can be tested and reviewed before their release, this is usually by critics or beta testers, which will be stated in the content. Usually, this also only happens on larger, more well-known products.
However, if a new product comes out and has lots of reviews within the first few weeks or even before the official date of release, then this is another red flag to be aware of.
12. Signs of incentivized content
There's nothing wrong with a company giving away a product for a review, as long as it's genuine. Many businesses will regularly say, 'hey, here's a free copy of our book as long as you leave a genuine review within the next 90 days'. A review may also include a tag like 'this product was received for free or as a gift,' or words to that effect.
This is all acceptable because it's disclosed.
However, some companies and brands try to give away their products for free and will hide this fact. In some cases, they may even try to bribe customers with free products to change their negative reviews!

Fortunately, plenty of civil reviewers will update their review to state that the company reached out to them in this way, showing you they're not a legitimately-acting brand.
To determine whether this is the case, search 'bribe' or 'warning' in a review section. If you find a few warnings, then the chances are there are some fake bribed reviews in that feedback area.
13. The content isn't relevant
Interestingly, one of the best ways to spot a fake review is simply just to read it and know what to look for. For example;
Is the product mentioned?
Are any specific features mentioned?
Does the review feature or name other products?
Do the reviews just feel too general and unspecific?
Have you seen similar reviews on other products?
Lots of companies buying or creating fake reviews can get into a bad habit of simply writing generic reviews and then posting them on all their products in a bid to raise their product rating.
However, by clicking on the brand, say on Amazon, and then opening a few of their product pages to read and compare the reviews, if you see any copy-and-pasted reviews, or just reviews that are far too similar, then you know you're onto something suspicious.
Here's an example:

A headphones company, that also happens to have this in their description;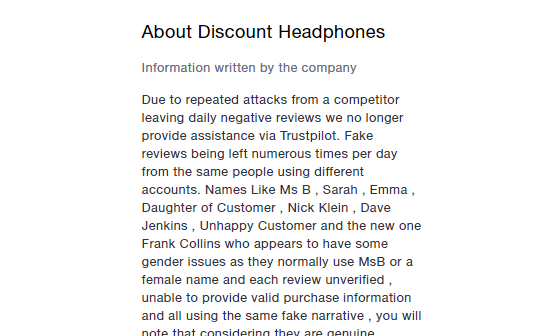 And it goes on. But is this true? Is the company being bombarded? Well, Trustpilot themselves has tagged the page as one that's being misused, so we can assume that it's in the process of being sorted. However, there's a clear example of how we know these reviews are fake.
For example;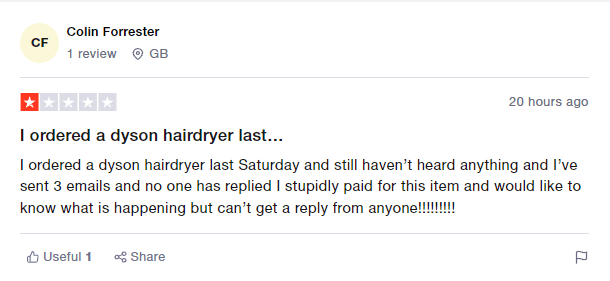 Clearly not relevant.
If you notice this or any of the red flags we've touched on today, then your best bet is just to avoid doing business with that brand in the first place.
After all, if they're getting involved with fake reviews, then you know they're quite likely to get involved with misleading business practices, and they're certainly not going to go out of their way to treat you right.
At the end of the day, if a product is good and brings value into your life, then this is going to show. Don't risk your money on products and services you'll regret. Instead, be proactive in doing your research, and you'll ultimately make smart choices with your money.
Summary
Remember, no matter what the review says, there is one question you should be asking;
Does this review help me determine whether the item or service is worth buying?
If you ask this and get into the habit of checking reviews for the red flags we've spoken about today, then you should have no issues finding the best products for you with the guidance of authentic reviews.
What's more, if you're a business and looking for a way to increase the number of authentic reviews you have, then check out Niva.io.
Niva.io is a service that helps your online business increase credibility by gathering highly authentic customer reviews. Included, you'll find everything you need to create snackable testimonial videos or long-form case studies. Check it today and see what Niva can do for your business!