The advantages and disadvantages of testimonials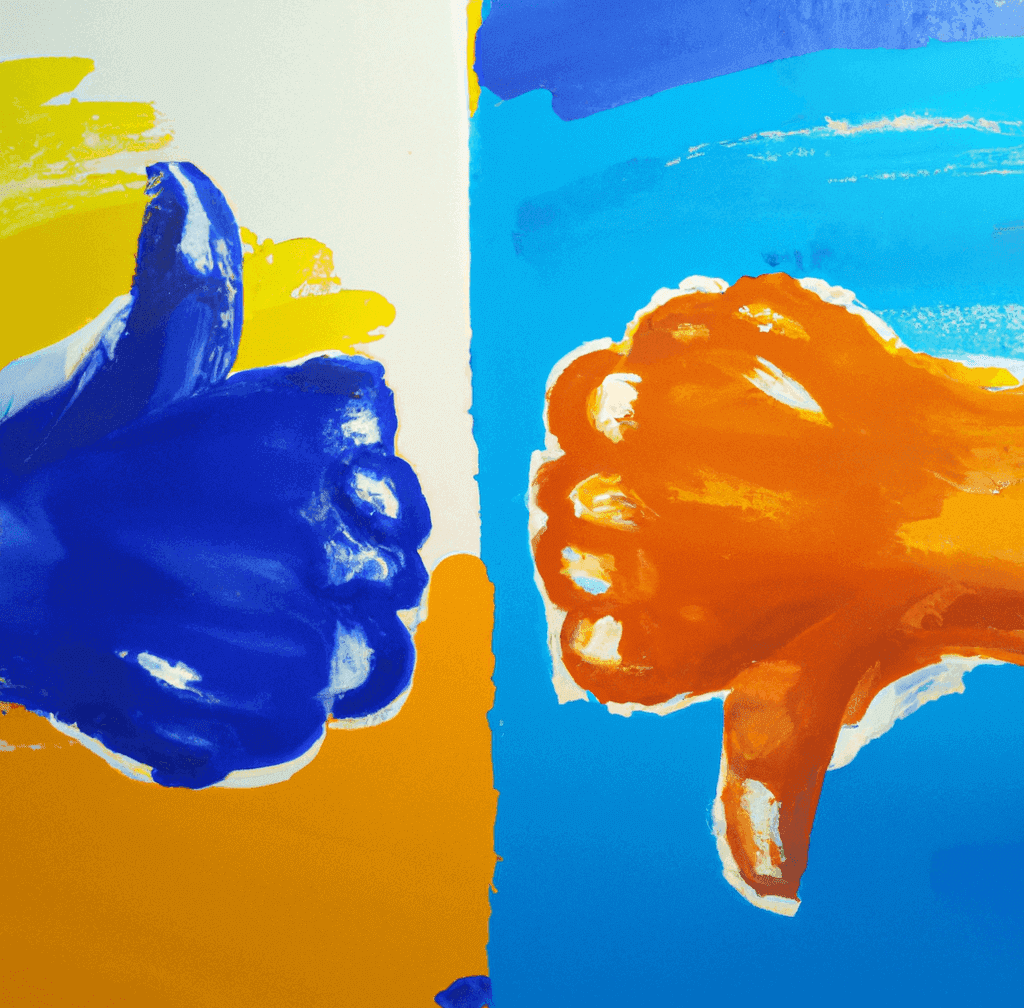 Last updated
December 2022
If you're looking to grow your business, the most important thing to focus on is making your customers trust you. That can be difficult, which is why you need to use as many marketing systems as possible. One of the most efficient ways to inspire trust is through testimonials. Showing the experience of previous customers and how happy they are with your offering can be very helpful.
For starters, it delivers social proofing and shows any lead that you are a trustworthy business, not a scam. Companies are spending millions of dollars on marketing and methods designed to inspire trust in front of their audience. Thanks to testimonials, you will be able to inspire trust and generate more sales in no time.
What are the advantages of testimonials?
1. They help overcome skepticism
A lot of people are skeptical when buying from a new company. That's the way things are. Our human nature doesn't allow us to believe everything we see. So even if a company sounds very good on paper, we will usually wait for others to be their "guinea pigs" and then we will buy only after we see some reviews. That's why testimonials are very important because they help remove skepticism and show that real people bought, used the product, and loved it.
2. Improved visibility for your business
Testimonials can arrive in various formats, they can be video-based, or they can be in the form of written content. Regardless of the format, testimonials are great for SEO, especially when it comes to local search. In doing so, you will be able to generate more growth and customers while also sharing tremendous value to your audience. It's the best of both worlds and certainly the right method you can use to push your business to the next level.
3. Testimonails strengthen the brand
Another advantage you get from testimonials is the fact that you can boost your branding efforts naturally and with significant success. This allows you not only to grow and push your business to the next level but also to show proof that many people love what you are offering. In doing so, you will showcase how much of a positive experience people can have with your products and services. In the end, even the most skeptical people will at least test you out, especially if you have a great offer and competitive prices.
4. They showcase the true business value
When people don't see testimonials, they will always have some skepticism in their minds. But the great thing about testimonials is that they can show a variety of benefits people acquired from using your products and services. That's what makes them so valuable because potential customers get to know from real people just how great your products are and how they changed their lives. Testimonials can be so impactful that they can multiply your sales in ways you would never expect otherwise.
5. Testimonials can be a great sales pitch
It's essential to have the right sales pitch, yet at the same time, you want to avoid overdoing it. That's where testimonials shine because they allow promoting your products through the voice of previous customers. This is fantastic because you're not heavily selling; instead, you show just how much value and help your products bring to real-life users. It's stuff like this that can end up generating so much growth for your business.
6. They put a shine on your customer experience
Knowing how a business treats its customers can be tricky unless you buy from them. That's why testimonials make a lot of sense because people get to see those reviews and understand how you treat your clients. For example, they can learn that your customer service is responsive and fast and always helps customers needing assistance. All these small details can make a significant difference and make testimonials incredibly important in today's day and age.
What are the disadvantages of testimonials?
1. Sometimes they can be overwhelming
If you have too many and too long testimonials, it can be challenging for people to go through everything and read the entire piece. Many people will skip reading those, and you will not get the powerful benefits you're hoping for. Tools like Niva.io can help you to create "snackable", attention-grabbing testimonials to combat that issue.
2. The testimonial section needs to be kept up-to-date
One of the things to note about testimonials is that they can become outdated. For example, one of the features mentioned in the testimonials is no longer available, or it was significantly changed in the meantime. Depending on your company structure and processes, you are not always allowed to make changes to the website directly, leaving incorrect information published longer than it should be, which can confuse potential customers.
3. Some people will think they are fake
Of course, every business will show only positive reviews on its website. But given that text testimonials can so easily be faked, consumers started questioning their legitimacy. And rightly so. Although fake testimonials are illegal and can damage your reputation, they are prevalent like never before. Video testimonials are a better option as they show authenticity while making it easy to convey real emotions.
How can Niva.io help?
Niva.io helps you increase credibility and sales by leveraging social proof with testimonials in a very unique way. In addition, our software enables you to automate the entire testimonial collection and publishing process while making testimonials one of your most powerful marketing tools.
Attention-grabbing testimonials that nobody has seen before in that form will increase engagement and outperform already impactful traditional testimonials.
Everything is on autopilot. Once set up in minutes, watch testimonials roll in. Use our web interface to update the testimonials without touching your website.
Real authenticity that harnesses the true power of social proof.
Conclusion
Without a doubt, the pros of testimonials definitely outweigh the cons. Not only will testimonials remove skepticism from your customer's minds, but they can also grow your brand and move your business forward.
Thanks to Niva.io, it has never been easier to leverage all the advantages and eliminate the disadvantages of testimonials. So make the most out of them today!